Audience at the Ross Bandstand
Princes Street in the Background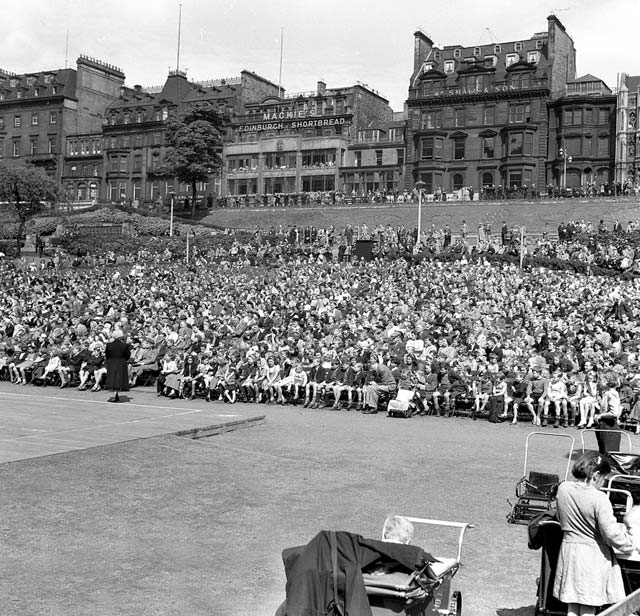 © Reproduced with acknowledgement to Nigel Baxter, Boston, Lincolnshire, England
Broughton Place
Date of the Photo?
Thank you to Nigel Baxter for allowing me to reproduce the photograph above of a large crowd at the Ross Bandstand in West Princes Street Gardens.
The photo is not dated, but I think it may have been taken some time around the 1950s.
The Audience
Here is another photograph of the audience at the Ross Bandstand. This view moves in closer to the audience, most having left their seats and moved to the area in front of the stage.
Both these photos may have been taken on the same occasion. Both come from medium format negatives that Nigel acquired as a 'job lot' in an auction following a house clearance.
Acknowledgement: Nigel Baxter, Boston, Lincolnshire, England: October 31, 2011.
Reply
1.
Bob Henderson
Burdiehouse, Edinburgh
Thank you to Bob Henderson, Burdiehouse, Edinburgh, who wrote:
Date of the Photo
Late-1950s?
"I can't see any overhead cables for the trams so that would put this photo in the later-1950s.
Also, the cable stanchion in the centre of princes street has been converted to a lamp standard."
Bob Henderson, Burdiehouse, Edinburgh: November 14, 2011