Bruce Peebles
transformer passing through
London
Where in London is this? - Mid-1920s
Answer: Ludgate Hill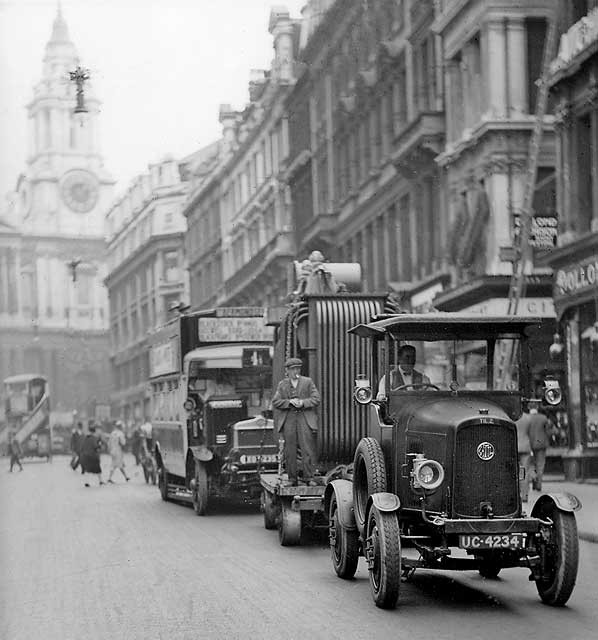 © Reproduced with acknowledgement to Siemens Transmission & Distribution Ltd.
Bruce Peebles transformer
Passing through London
Question
The route taken by this transformer through London took it via the City, the Tower of London, Tower Bridge, and where else?
If you recognise where this photo was taken, please e-mail me, so that I can update the web site.
Thank you. - Peter Stubbs.
Reply
1.
Trevor Cobb
Frinton on Sea, Essex, England
Thank you to Trevor Cobb who for replying with two emails:
Trevor wrote:
Ludgate Hill
"The big building at the back looks like St. Paulís Cathedral, in which case this road could be the top of Ludgate Hill. This area was seriously bombed during the Blitz so there are no real clues left in the buildings but the road alignment, which appears to bear right in front of the cathedral, looks right.
Trevor Cobb: January 31, 2011
Trevor added:
The Route
"Looking at the map, the Ludgate Hill suggestion would tie up with the route past the Royal Exchange, but they both seem too far west for using Tower Bridge to cross the Thames.
Blackfriars Bridge would have seemed the straighter option but both Southwark Bridge and London Bridge lie between Tower Bridge and Blackfriars Bridge.
Trevor Cobb, Frinton on Sea, Essex, England: January 31 + February 1, 2011
Hi Trevor:
Thanks for your suggestions above. That's helpful.
As for the route taken, I think there may be a simple explanation. It looks to me as if Bruce Peebles were intent on taking a few publicity photos on their journey through London.
So I expect they would have been happy to take in a little diversion on their way, rather than keep to the direct route, if it gave them the chance to get a couple of photos of their load crossing the impressive Tower Bridge.
Peter Stubbs, January 31, 2011.