Railway Tour - 1963
This railway tour has just left the station at Granton Harbour on August 31, 1963. It is travelling on the embankment between Granton Harbour and Lower Granton Road, and approaching the end of Granton Harbour Eastern Breakwater where there was an accident 103 years earlier.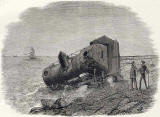 ©
Today
Note the small boatyard (left) at the end of the breakwater (out of picture on the left). The boatyard was destroyed in a fire some years later.
The embankment has now been removed and is the land has been planted with grass. It forms part of the route proposed for Edinburgh trams, possibly in 2011 or later.
Wardie Hotel, in the background, is still standing, but is now being converted to apartments.