Links to a few pages on EdinPhoto web site
Keir Street
A short street leading to the north from
Lauriston Place, opposite Edinburgh Dental Institute
North Side of Keir Street - 1969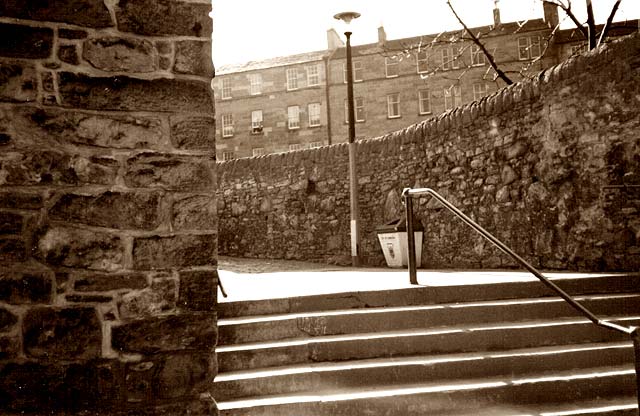 © Margaret Johnston, (née Slattery) Australia. Photo taken March 25, 1991
Keir Street
View from Vennel Steps
Thank you to Margaret Johnston, now living in Australia, for sending me this photo of Keir Street, taken when she visited Edinburgh in March 1991.
This photo was taken from the top of the Vennel steps. The steps lead up the hill, from The Grassmarket to Lauriston Place. They pass along the western boundary of Heriot's School.
Here is a photo of Heriots, taken in the 1840s.
Keir Street
The fronts of the houses at 12 and 10 Keir Street are in the background, of the photo at the top of this page.
Margaret lived in Keir Street with her parents and eight siblings for thirteen years. She emigrated to Australia with her husband in 1967.
Margaret Johnston (née Slattery), Australia: June 11, 2010
__________________

Links to a few pages on EdinPhoto web site