The Royal Institution
now named the Royal Scottish Academy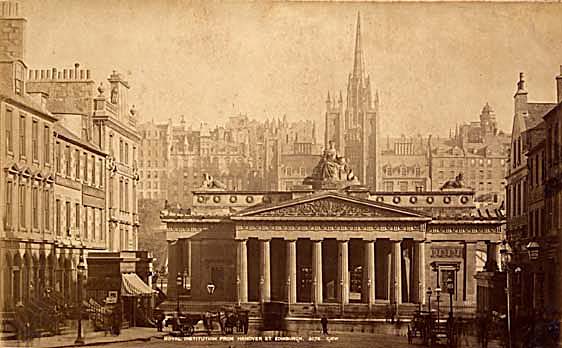 © Copyright: For permission to reproduce, please contact peter.stubbs@edinphoto.org.uk
This is the gallery facing directly onto Princes Street, seen in the photograph above. It was designed by Playfair and built on wooden piles as the ground on which it was built had been an earthen mound built over a bog.
The Royal Institution, opened in 1822, was the Headquarters for the Board of Manufacturers.
The gallery also housed:
- The Royal Society of Edinburgh
- The Society of Antiquities of Scotland
- The Institution for the Encouragement of the Fine Arts in Scotland
- The Edinburgh Art Union
and other Edinburgh learned societies and Art organizations
The Royal Institution rented space to the Royal Scottish Academy for its Annual Exhibitions, until it could no longer afford the space to do so.
The gallery has sculpture of Queen Victoria by Steele, the sculptor who produced several other monuments around Edinburgh, above the entrance.