EPS Member, Roger Taylor, during an EPS Photographic Outing in the grounds of Abbotsford House in the Scottish Borders.
Abbotsford House, near Melrose, was built for the 19th Century novelist, Sir Walter Scott, whose Monument features in many photographs of Princes Street.
Roger Taylor was a Member of EPS Council, and gave advice on the conservation and repair of the Society's premises at 68 Great King Street.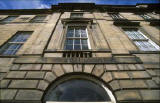 He also ran the EPS Colour Group for several years. It is the EPS Colour Group that has continued Edinburgh Photographic Society's tradition of arranging photographic outings for Members. Outings began in the 1860s. They are now held in the Spring and Autumn of each year.