Archibald Burns
© Reproduced by courtesy of National Galleries
of Scotland. See Copyright Notice
Archibald Burns
Professional Photographer
Archibald Burns began as an amateur photographer in the 1850s or earlier. He first appeared in the Edinburgh trade directories as a professional photographer in 1867. His cartes de visite advertised:
"Copies up to life size printed in silver or carbon
& finished in oils or water colour."
Landscape and Urban Photographer
From 1871, Archibald Burns was a landscape photographer, based who worked from Rock House, which he shared initially with the Annan family in 1871
He took 26 photographs for the Edinburgh Improvement Trust, showing buildings in the old closes between the University and Cowgate, photographed as they were about to be demolished. He was paid £16 7s 0d for these photographs. These photographs were published in a book entitled "Picturesque Bits of Old Edinburgh.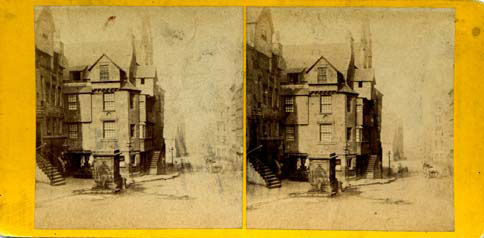 © Copyright: For permission to reproduce, please contact peter.stubbs@edinphoto.org.uk
A stereo pair of photographs by Archibald Burns, showing John Knox House in the Royal Mile, running from Edinburgh Castle to the Palace of Holyrood. This scene looks very similar today.
Journals
In 1859, Archibald Burns sent some of his stereograms to Photographic News, edited by William Crookes, in 1859. The article in Photographic News said:
"If we are to take these stereograms as a fair average specimen of his skill, -he deserves to take as high a rank among photographers as his celebrated namesake among poets." [PNe:25/11/1859]
Some examples of Burns' stereotype views of Edinburgh can be found in the Victoria & Albert collection. Others appear on this site
Family
Archibald Burns died, aged 49 on 29 January 1880, at Rock House in Edinburgh. He was married to Janet Goss.
Father: Robert Burns, West Machan, Hamilton, Landed Proprietor
Stepfather: John Findlater
[Death Certificate]