Edinburgh's Camera Shop
THEN
Edinburgh Camera Shop
THEN
Edinburgh Cameras
Background
From 1912 onwards, George G Morrison, then George Morrison (Was this his son?) have had studios in Edinburgh, Leith and Portobello.
From 1939 until 1952, their studio was on the ground floor of 55 Lothian Road - the eastern side of Lothian Road, opposite the Lothian Road railway goods yard, now vanished and replaced by the junction with the Western Approach Road.
The business at 55 Lothian Road was acquired by William Russell in 1952. He continued to offer commercial, press and wedding photography, but had plans to develop the retail side of the business.
From 1952 until 1956, the company traded under a joint name
'Morrisons - The Edinburgh Camera Shop' (or similar name).
The Morrison name was dropped from the business in 1956, when the premises had a major re-fit.
Cameras and Equipment
During the 1950s, the business at 55 Lothian Road changed from being one of Edinburgh's photographic studios to being Edinburgh's only dedicated camera shop.
Up to the 1950s, cameras had been sold by departments of major opticians, such as Lizars and JB Watson.
However, an increasing interest in photography and relaxation of the rules for importing cameras from Europe and Japan offered the opportunity for WG Russell to create a specialist retail business for selling cameras and photographic equipment to both the wholesale and retail trade
The business expanded, moving taking over the floor above the ground floor that offered a wide range of materials for processing.
At one time Edinburgh Cameras employed 25 staff. One of the employees was John Semple. He worked at 55 Lothian Road for about 47 years, first for George Morrison then for Edinburgh Cameras.
Following the death of WG Russell, around 1961, the business was initially in the hands of his three sons.
In 1973, Edinburgh Cameras acquired premises at 30 Dean Street from Francis Inglis, and used these in connection with their wholesale business.
One of the sons of WG Russell, Denny Russell, has been the sole proprietor of the business since 1980.
With acknowledgement to Denny Russell for providing the background details above.
Retail Business
Today
2003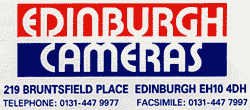 © Reproduced by courtesy of Edinburgh Cameras
Edinburgh Cameras is still in business now, in the early 2000s. For a short period Edinburgh Cameras opened a branch at Clerk Street, but today it has just one shop, at 219 Bruntsfield Road, about a mile to the south of the West End of Princes Street.
The shop at 219 Bruntsfield Place is near 'Holy Corner' (a cross-roads between the centre of Edinburgh and Morningside that has a church on each of its four corners).
The company now operates on a smaller scale. It no longer has a wholesale side to the business, but it still sells cameras photographic equipment, both new and second-hand and offers film processing.
In 2002 the company celebrated 50 years in business.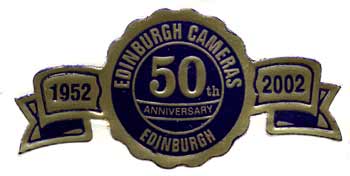 © Reproduced by courtesy of Edinburgh Cameras
Peter Stubbs, Edinburgh c.2003
Retail Business
Today
Update
2014
Thank you to Denny Russell for contacting me to bring the details above up to date.
Danny wrote:
East Lothian
"Edinburgh Cameras has now moved from Edinburgh to 7 Waughton Steading, East Linton, East Lothian EH40 3DY.
From here, I still do most of the same things (but I no longer do developing and printing).
I do:
- Camera + Binocular sales (new and second hand).
- Camera Repairs."
Denny Russell, East Linton, East Lothian, Scotland: April 12, 2014
The Russell Trophy
WG Russell was also a keen amateur photographer.
He followed a long tradition of professional photographers supporting Edinburgh Photographic Society (EPS).
He presented 'The Russell Trophy', which is awarded each year for the best colour transparency in the EPS Members' Exhibition.
Recollections
1.
Allan Dodds
Nottingham, Nottinghamshire, England
Thank you to Allan Dodds who wrote
Edinburgh Camera Shop
Lothian Road
"The Edinburgh Camera Shop in Lothian Road used to be one of my favourite shops as they always seemed to have the latest in photographic equipment in the 1960s."
Staff
"As a Medical Photographer, I always demanded the best available and I placed many orders with Brian Wishart who headed their professional department upstairs.
Blair, Denny and Stuart Russell, the joint proprietors, were always welcoming and we developed a lasting friendship."
Australia
"Many years after I had relinquished photography for academia, I happened to attend a conference in Melbourne, Australia, to which I had been invited as Keynote Speaker.
On an afternoon off I happened upon a classic camera shop in whose window was displayed a number of old Leica cameras, described as 'The Blair Collection'.
On entering the shop, I enquired as to whether the cameras were those of Russell Blair, who I knew had been a keen Leica collector in Edinburgh.
The answer came in the affirmative and I was informed that Blair had emigrated to Oz a number of years before.
Armed with Blair's Melbourne address I dropped in on him completely unannounced after twenty years of mutual absence. His surprised welcome was endearing and we enjoyed reminiscing over our early days in Edinburgh and our equally changed circumstances."
Allan Dodds: March 19 + 23, 2014
Clicking above will open a window to the current Edinburgh Camera Shop web site.