Empire Studio
Edinburgh
Post cards portraits have been produced by Empire Studio. One appears below. This post card gives no address, and I have found no trace of this studio in local trade directories, so I do not know when it operated.
Post Card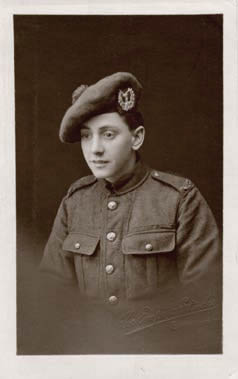 © Copyright: For permission to reproduce
please contact peter.stubbs@edinphoto.org.uk
However, the back of another portrait from Empire Studio gives the studio address as 92-96 Nicolson Street. Several different photographers were based at this address from 1870 until 1945.
In fact, I have 5 photos from Empire Studios in my collection, but only one of them is of a soldier.
Comments
1.
Nigel Aspdin
Derby, England
Britain
There appear to have been 'Empire Studios' in several towns and cities in Britain. These may well all have been branches of the same company.
Several examples that I have seen have the name embossed in the corner with a blind stamp. Some have a CYCO mark printed on the card. This is the mark of the card printer, who appears to have been in business from around 1904 to the 1920s.
Nigel Aspdin, Derby, England has been examining Empire Studios photos, some of soldiers in uniform, and adds:
"I am even wondering if it was a franchise, or perhaps even a NAAFI predecessor / affiliate."
Other Cities
Thank you to Nigel for telling me about:
- Empire Studios, 122, Commercial Street Portsmouth.
- Empire Studio, Leeds
- an Empire Studio, portrait of a soldier, dated July 1916.
Comments
2.
Tam Croal
Edinburgh
Family Photo
Thank you to Tam Croal for allowing me to reproduce this Empire Studio postcard portrait of his Grandad and Gran McAthie.
Tam and his dad, Wullie Croal, have sent me many photos of Holyrood Park and Dumbiedykes that I have now added to the EdinPhoto web site.
Acknowledgement: Tam Croal, Edinburgh: March 14, 2009