Robert Smith Forrest
ALSO
RS & W Forrest
William Forrest
Forest
[in one directory]
RS&W Forrest
RS&W Forrest was a partnership between Robert Smith Forrest and William Forrest, until 1905 when the two photographers began to work from separate studios.
Here is a cabinet print from RS&W Forrest's 'Brandon Studio' at Brandon Terrace, Canonmills, Edinburgh. The studio operated from 1890 until 1905, just about the end of the era of cabinet prints.
The cabinet print below includes Scottish highland dress. The back of the card is plain white.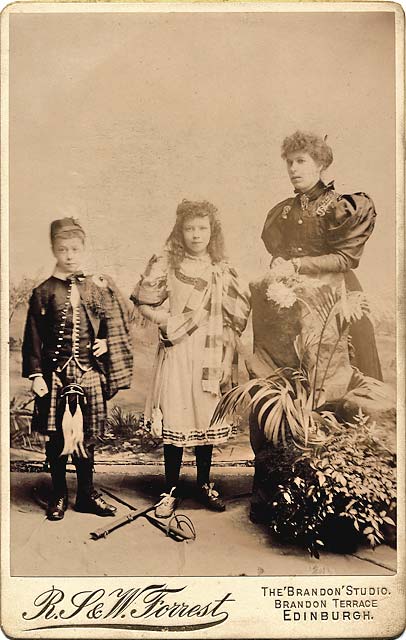 © Reproduced with acknowledgement to the Scottish Genealogy Society
Question
The photo above is from an album that has been donated to the Scottish Genealogy Society. The inscription on the front of the album reads 'AG Fraser, Edinburgh, 1889'.
Most of the photos in the album are from studios in Edinburgh. A few are from studios in Musselburgh, Leven, Walthamstow and Forfar & Kirriemuir.
Here are more photos from the same album.
Do you have any idea which family this album might have belonged to? If so, please e-mail me, then I'll pass your message on to the Scottish Genealogy Society.
Thank you. - Peter Stubbs: January 14, 2007.
William Forrest described himself as Photographer and Enlarger.
Here is one of the post cards that he produced form his studio at Brandon Terrace, Edinburgh.
Post Card
© Copyright: For permission to reproduce,
please contact peter.stubbs@edinphoto.org.uk
Robert Smith Forrest
(26 March 1871 - 9 February 1943)
Occupations
Robert Smith Forrest for three years from 1906-08 described himself in the Edinburgh trade directories as Photo Artist and Photographer.
Then until 1942 he described himself as Artist.
Throughout this period his address was: Raeburn House, 32 York Place. A plaque on the wall of 32 York Place, carved in stone, says:
"In this house, built by him,
Sir Henry Raeburn painted
from 1798 to 1809"
Thank you to Archie Foley, Joppa, Edinburgh, who has been investigating the history of Robert Smith Forrest, for providing the following details.
Archie wrote:
Occupations
further details
Here is how Robert Smith Forrest's occupation was described in different documents over the years:
1891

Census

His brother William is shown as Photographer App. [employed].

Photographic Artist (Employed)

1897

Marriage Certificate

His wife Edith Isabella MacRitchie is similarly described.

Photo. Artist

1898

Birth Certificate, daughter

Photo Artist

1901

Census

Living at 5 Park Place, Trinity

Photographer (Employer)

1901

Birth Certificate, son

Photo Artist

1903

Birth Certificate, son (2)

Photographer

1928

Death Certificate, wife

Registered by son 2

Artist, Portrait

1930

Marriage. Certificate, son (2)

Artist

1943

Death Certificate, own

Registered by son2

Artist

1972

Death Cert, son(2)

Photographer
Archie Foley, Joppa, Edinburgh, March 29, 2006
Archie also wrote:
Descendants
The person who commissioned this research is the husband of Robert Smith Forrest's granddaughter.
He said that Forrest had worked for the Royal Family at Holyrood and became a painter. He thought that Robert Scott Forrest was an RSA but I have not been able to check this.
His wife's father (RSF's son) had an antique shop in the Royal Mile and the basement had hundreds of plates and equipment that had belonged to Forrest.
Archie Foley, Joppa, Edinburgh, April 15, 2006
Question
1.
Thank you to Denis Perks, Toronto, Ontario, Canada for telling me more about Robert Smith Forrest's paintings.
Robert Smith Forrest
Painting
Denis wrote:
"I have an old oil painting of Edinburgh Castle and the Ross Fountain signed 'Robert Smith Forbes'. I am trying to discover whether or not it is an original."
Denis Perks, Toronto, Ontario, Canada: November 3, 2009
Denis added:
"I've now found more information. I believe that the man whose signature appears on my painting might be Robert Smith Forrest (1871-1943) who was also responsible for a watercolour portrait of King George V and Queen Mary, painted in 1911 and hanging in the Edinburgh City Chambers.
I'm trying to locate a signature of other pieces of work so I can compare and authenticate.
Denis Perks, Toronto, Ontario, Canada: November 6, 2009
Question
1.
Answer
1.
Robert Smith Forrest
Etching
Thank you to Marty Aldinger, Minnesota, USA, who read Dennis Parks' search for Robert Smith Forrest's signature, and sent me the etching below, together with an enlargement of RS Forrest's signature that appears at the foot of his etching.
Marty tells me that he purchased the etching some years back in Maddison, Wisconsin. The etching is a view looking SE towards Edinburgh Castle from West Princes Street Gardens. The Ross Fountain in the gardens is in the lower left corner of the picture.
Please click on the thumbnail images below to enlarge them
Engraving
Signature
Marty Aldinger, Minnesota, USA: December 20, 2009
Question
1.
Answer
2.
Robert Smith Forrest
Painting and Etching
I emailed Denis Perks to let him know about 'Answer 1' above.
Denis replied:
"Thanks for the link. The etching is of the same painting as I have. That's amazing!
An auction house has stated that my painting, with the history I have accumulated so far, could fetch Can$800 to Can$1200 at auction.
I beleive the signatures appear to be the one and same."
Denis Perks, Toronto, Ontario, Canada: December 26, 2009
Question
2.
Angus Murchison wrote:
Robert Smith Forrest
Portrait Painting
"This foot-square head and shoulders portrait was probably bought in an antique shop because of the attractive composure of the sitter.
It hung in my mother-in-law's house since 1939 or earlier, and on her death it passed to my wife . As we are both fond of the picture it now hangs in our home.
The signature 'R S Forrest' is on the bottom right corner but there is no indication regarding the identity of the sitter, or where or when it was painted.
I'd be delighted if you could answer any of these questions."
Angus Murchison, Glasgow, Scotland: December 21+23, 2010
Reply to Angus?
Please email me if you'd like to send a reply to Angus, then I'll pass on your message to him. Thank you.
Peter Stubbs, Edinburgh: December 31, 2010
Question
2.
Answer
1.
Robert Smith Forrest
Thank you to Richard Torrance for providing a little more background to RS Forrest, and details of some of his paintings.
Richard wrote:
"Robert Smith Forrest, was born in Edinburgh on 29 March 1871 and died 9 Feb 1943.
He began as a photographer with a studio at 32 York Place, known as Raeburn Studio, from 1906 to 1908.
In 1911, he was commissioned by the Royal Burghs to paint a watercolour portrait of the King & Queen for their Convention at Holyrood. This is now in Edinburgh City Chambers.
After 1927 Forrest turned increasingly to etching."
His etchings and Edinburgh topographical scenes, narrative subjects and portraits were exhibited at Royal Scottish Academy (RSA) between 1908 and 1959.
Richard Torrance, Edinburgh: January 1, 2010
Comment
1.
Linda Smiles
Thank you to Linda Smiles, a descendant of Robert Smith Forrest for sending me two etchings by Robert Smith Forrest, and for telling me that the signatures on these are almost identical to the signature on the etching in 'Question 1, Answer 1' above:
Please click on the two thumbnail images below to see the etchings that Linda sent to me, and to read more about them.
Canongate Tolbooth
Chancellor Court
Acknowledgement: Linda Smiles, December 28, 2011