William Halkett

William Halkett was a photographer working first in partnership with Moir, then under his own name. These were his studio dates and addresses:

1888-94

106 High Street, Portobello

1888-96

94 High Street, Portobello

1889-92

106 High Street, Portobello

1897-00

180 High Street, Portobello*

This is a re-numbering of 106 High Street, Portobello

1900-09

1909

37 Wellington Street, Portobello

1910-30

Thank you to Archie Foley, Portobello for pointing out that the houses in Portobello High Street were re-numbered in 1900, so No 106 in the table above is almost certainly the same building as No 180.

William Halkett's name can still just be seen, painted onto the window in the upper floor of 180, Portobello High Street.

The name is now faded. This is not surprising. He left this address in 1909.

Established when?

William Halket claimed, in the 1897 trade directory, to have been established in 1860. However, in 1860, William Halkett was aged about two!

Moir & Halkett, in 1888-94, advertised that they were established in 1862, but the first evidence that I have found of this partnership in the trade directories was in 1888.

Other Portobello Partnerships

However there have been many partnerships in Portobello, involving Kyles, Law, Kerr, Moir and Halkett. The first of these to appear in the early trade directories was that between Kyles & Moir, 1863-67.
Cabinet Print
Here is one of William Halkett's cabinet prints. Cabinet prints were popular until the around 1900. Cabinet prints were usually studio portraits, but this one is an outdoor view.
If you recognise the location, please e-mail me.
Please click on the image below to enlarge it.
Where is it?
Advertisement
Portobello & District Directory
1905-06
William Halkett (late Moir & Halkett)
PHOTOGRAPHER, FRAME MAKER AND GILDER
180 HIGH STREET, PORTOBELLO
FIRST CLASS WORK AT MODERATE PRICES
SPECIAL ATTENTION GIVEN TO CHILDREN
FISHWIFE AND HIGHLAND COSTUMES KEPT
N.B. Framemaking & Gilding in all its Branches.
Fine Selection of Mouldings always in stock
Workshop - 5 Bellfield Lane
William Halkett
1881 Census
William Halkett was listed in the 1881 census as:
Photographer: aged 23
Born: Edinburgh
Resident: 10 Calton Hill, Edinburgh
Son of: Christina H
William Halkett
Advert + Price List
Thank you to Archie Foley for letting me reproduce the advert and price list below for Wm Hackett's business.
Archie tells me that he bought these items recently, cheaply on eBay from a dealer in USA.
Acknowledgement Archie Foley, Joppa, Edinburgh: 17 December 2017
Wm Halkett - Advert
© Reproduced with acknowledgement to Archie Foley, Joppa, Edinburgh
Wm Halkett - Price List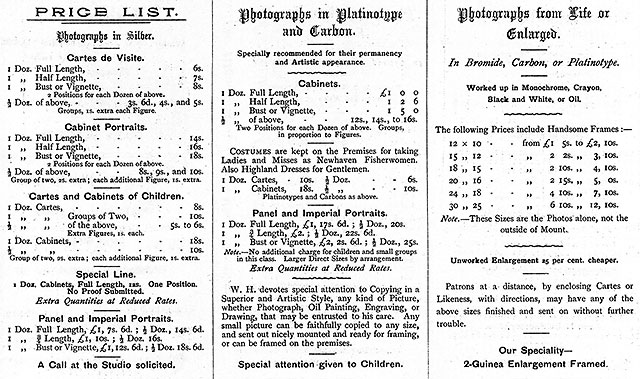 © Reproduced with acknowledgement to Archie Foley, Joppa, Edinburgh