Lees
John Lees - T Lees - William Lees
Studio Photographs
The Lees family were professional photographers who worked at Bath Street, Portobello, for sixty years from 1892.
Below are two photos taken in William Lees' studio. I have also been told (at a Portobello History Group Meeting in June 2009) that William E Lees was one of the Portobello photographers who had a stuffed donkey in his studio.
The post card below shows a studio boat against a backdrop of the Forth Bridge. William Lees also produced cabinet prints featuring boat and bridge.
Post Card
© Copyright: For permission to reproduce, please contact peter.stubbs@edinphoto.org.uk
Here is a photograph of three brothers, taken in Lees studio in the mid 1920s. The brothers were born 1913, 1920 and c.1922.
The photographer's address on the back of this photo is: William Lees, 23 Bath Street, Portobello.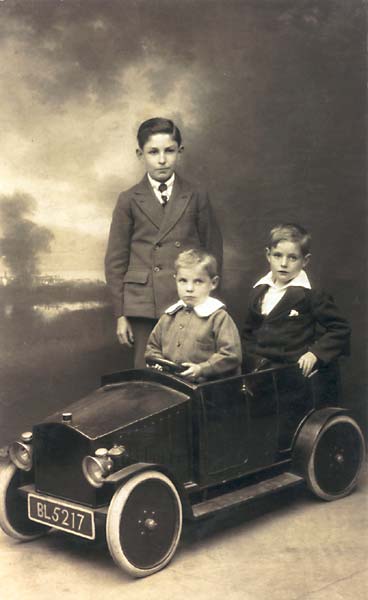 © Reproduced by courtesy of Denis Slattery
Several photographers, including Hill & Adamson photographed fishwives at Newhaven or Fisherrow
Other photographers kept fishwives' costumes for their clients to be photographed in.
William Lees appears to have had a cardboard cut-out of a fishwife for his clients to stand behind.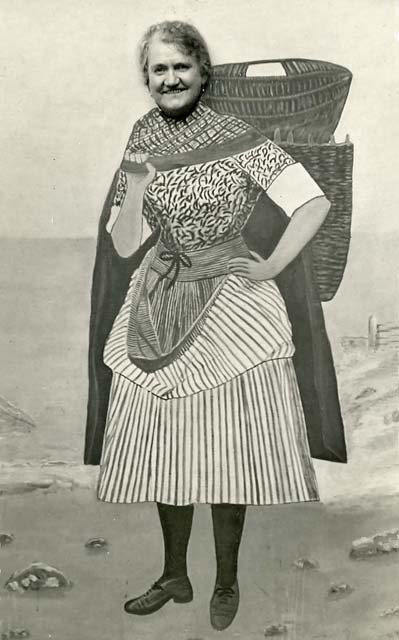 © Reproduced with acknowledgement to David Millan, London
David Milan, now living in London, tells me that the photograph is of his great aunt, Marion Wear Alexander (1886-1976), and that printed on the back of the photo is:
Lees Photographer
23 Bath Street, Portobello
No 5910 (written in pencil)
William Lees, T Lees then John Lees had a studio at 23 Bath Street from 1898 until 1952. When might this photograph have been taken?
David added:
Big Game Hunters
"Marion Wear Alexander was the second wife of Walter Edward Simpkins (c.1851-1937).
He was a curer of leather. He used to accompany big game hunters on their trips to Africa and elsewhere and preserve the hides of the shot animals.
Fishwife Photograph
"I can remember, as a child in the 50's, seeing this picture of Marion on display in my grandmother's cabinet in her flat in 4 Dundee Place [now long gone] and always thinking it a bit strange!!
Now I can sit in the [new] cinema at Fountain Park and tell my wife that we are sitting where my grannie's back green used to be!!"
David Millan, London: August 7 + August 15, 2006
..\5\5_copyright_notice_sullivan_maurice.htm
Recollections
1
Maurice Sullivan
New Jersey, USA
Thank you to Maurice Sullivan for sending me one of his family photos, produced from the Lees studio in Portobello.
Maurice wrote:
The Lees Studio
"I noted with interest on your site that Lees studio had a stuffed donkey. Here is a photo from my family history:
1.
The Duncan Family
Aunt Maggie, Grandad and Granny Duncan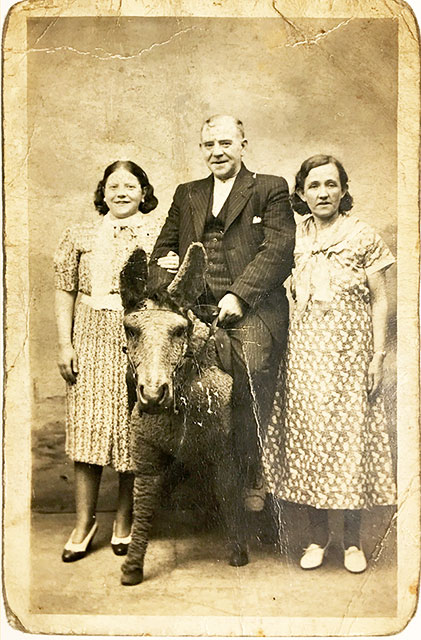 © Reproduced with acknowledgement to Maurice Sullivan
2.
The back of the Duncan Family photo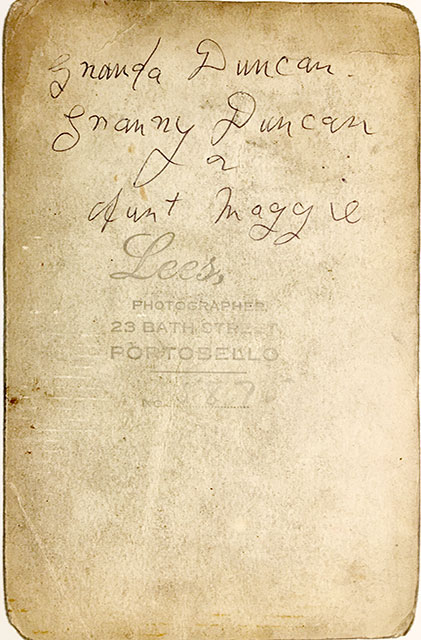 © Reproduced with acknowledgement to Maurice Sullivan
From left to right ... Maggie Duncan (my grandfathers daughter), William Duncan (my grandfather 1880-1973) and his wife Barbara Duncan (my grandmother 1895-1983).
On the rear of the photo, the hand writing is my mothers. You can still clearly see Lees and the address. I don't know when it was taken."
Maurice Sullivan, New Jersey, USA: 13 + 14 April 2016 and 7 Dec 2016
Thank you, Maurice.
In fact, according to the trade directories, there were Lees studios at 23 Bath Streets for over 50 years
- 1898-1919** William Lees
- 1920-1952 John Lees
** In fact the Trade Directories gave a studio address of 23 Bath Street (1898-1914) and 23c Bath Street (1905-1919). However, I expect that both '23' and '23c' would be referring to the same studio.
Your photo above looks to me likely to have been taken by William Lees in the early 1900s.
Peter Stubbs, Edinburgh: 14 April 2016
William Lees
Studio
Studio Addresses
William Lees had studios at:
1892-97

1898-14

1900 - 02

1905-19

1906

1910-25

1915

131 Lothian Road

?

See below.

10 East Richmond Street
There was also a William Lees who became a member of Edinburgh Photographic Society in the season 1890-91. He gave his address as 10 East Richmond Street. Is this likely to have been the same photographer as above?
Cartes de Visite
I have not seen the studio at 10 East Richmond Street listed in any of the trade directories, but I have seen 2 William Lees cartes de visite bearing this address. When might this studio have operated?
The portraits of the lady and the man both have the same style of back as below, giving the '10 East Richmond Street' address and advertising William Lees as:
'Portrait, Group and Architectural Photographer.'
Lees Studio - Bath Street
Please click on this image to enlarge it
Question 1
Question 1
William Lees advertised: Also at Bathville.
Where was Bathville?
When did he have a studio in Bathville?
Answer 1
Answer 1
Many thanks to Archie Foley, Secretary, Portobello History Society for supplying the answer below.
Archie wrote:
Bathville
"This puzzled me for some time. There is a Bathville that was once a mining hamlet but is now an industrial estate at Armadale and I saw a reference to an area with this name in the 19th century near Falkirk. I never thought either was likely to be connected with Lees and I should have got the answer much sooner than I did.
Bathville was the name of his large villa in its own grounds on the east side of Bath Street and it is shown on the large scale OS map of Portobello. The area is now occupied by a Bingo hall."
Archie Foley, Joppa, Edinburgh
Question 2
Archie Foley, Joppa, Edinburgh, has send me this photo by Lees. He wonders where and when it was taken and who the subject might be.
Please click on the thumbnail image below to enlarge it.