Valentine & Sons
Book
This England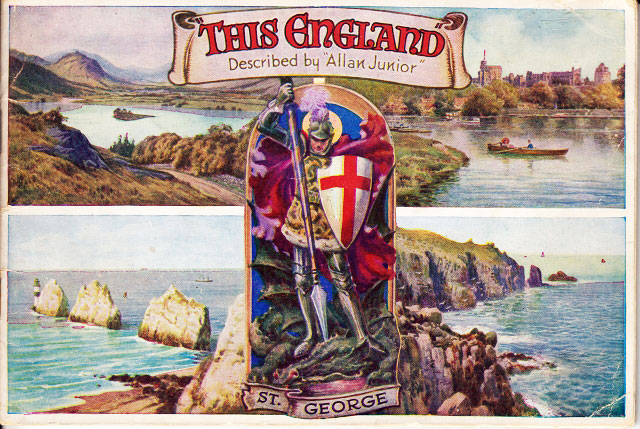 © Reproduced with acknowledgement to Donna James, Centre County, Pennsylvania, USA
© Reproduced with acknowledgement to Donna James, Centre County, Pennsylvania, USA

© Reproduced with acknowledgement to Donna James, Centre County, Pennsylvania, USA
© Reproduced with acknowledgement to Donna James, Centre County, Pennsylvania, USA
Comments
1.
Donna James
Centre County, Pennsylvania, USA
Thank you to Donna James for telling me about this little book that she bought recently, giving me a list of the 64 views of England contained in the book, and sending me copies of some of them.
The list of views that Donna sent to me included several of London, and others form throughout England - Christchurch, Dartmoor, Exmoor, Ilkley Land's End, Maidstone, Minehead, Norfolk, Oxford Stratford-on-Avon, Weymouth, Whitby, Windsor, Windermere, etc., etc.
I've included two of the photos from the book above. I might have included more if the views had extended as far north as Edinburgh!
Donna wrote :
This England
"This is a lovely little book that I bought". It is described on the Frontispiece as 'A Pictorial Memento of the scenic loveliness that lies within the land which the King calls 'Our Own Dear Home'
This quotation leads me to believe that the book may have been published between about 1940 and 1952.
The book is postcard format, 18cm x 12cm, staple-bound with 64 plates in full colour, each page with a line or two of verse appropriate to the scene."
Views include several of London + others form throughout England: Windsor, Maidstone, Oxford, Christchurch, Whitby, Ilkley, Windermere, Stratford-on-Avon, Weymouth, Minehead, Exmoor, Dartmoor, Land's End, etc., etc.
Donna James, Centre County, Pennsylvania, USA: ay 31 + (3 emails) June 1, 2014