Hi: I hope you are all well and coping with the life under the threat of Covid. Lets hope that 2021 will be kinder to us all than 2020 was.
Peter Stubbs: 14 January 2021
Please Note:
Since moving to Windows 10, I've encountered problems in updating the EdinPhoto web site. It is now sometimes taking me 2 or 3 hours to add just one new item to the web site. So please don't be surprised if my updating stops now !
Peter Stubbs: 2 October 2020
2 Oct 2020

Page updated

2 Oct 2020

Page updated

17 May 2020

Page updated

24 April 2020

Page updated

24 April 2020

Page updated
Peter Stubbs wrote:

Messages added to the EdinPhoto web site
"The messages below are displayed in the order that I have received them. It would have taken me too long to integrate all these messages into the appropriate parts of the EdinPhoto web site and set up links on the web site to them all.
However, if you search on the EdinPhoto home page, the search results should include details from the messages below.
If any of the messages below are of particular interest to you, please email me. I may be able to pass on their email address to you so that you can contact them."
Recent Computer Problems
"I've had a computer problems over the past week, but I think I've just about caught up again now - apart from reading the 250 emails that have arrived while the computer has been out of action.
I now have a new hard drive in the PC, have recovered some lost data and have moved from Windows 7 to Windows 10, so we'll see how everything goes from here on!"
Peter Stubbs: 22 April 2020
Recent Messages Received
3 March to 15 April 2020
Index
| | |
| --- | --- |
| 31 | EdinPhoto - GuestBook |
| 30 | Portobello - Cassidy Family |
| 29 | John McKean - Photographer |
| 28 | James Howie Painting |
| 27 | Tynecastle School |
| 26 | Pre-Fab Houses - Joppa |
| 25 | My Grandfather - Studio Photo |
| 24 | Studio Photos - Princes Street backdrop |
| 23 | Gilmerton - Erskine Family at The Tofts |
| 22 | Royal High School - 'Gytes' |
| 21 | W J Hay - Searching for Descendants |
| 20 | Isa's Chat 'n' Chew - Cafe |
| 19 | Chameleon and Aquarius - Discos |
| 18 | Ferranti - Searching for John Gowans |
| 17 | Hailsend Primary School |
| 16 | Lismore School - P7, 1967 |
| 15 | St Hilda's School |
| 14 | Portobello |
| 13 | Langfier Family - Photographers |
| 12 | Douglas Fraser - Photographer and Poet |
| 11 | City Hospital - Photos |
| 10 | Sighthill Prefabs - Timber Houses |
| 9 | Leith Links School-- Photos |
| 8 | Gilmore - Family History |
| 7 | Valentine & Sons - Small Book |
| 6 | Lutton Place |
| 5 | Brown Brothers |
| 4 | Craiglockhart Poorhouse - Colinton Road |
| 3 | Broughton and London Road Schools |
| 2 | Ratho - Houses |
| 1 | Broughton School |
EdinPhoto
Guestbook
31. Annette McDonald wrote:
"Where is the EdinPhoto Guestbook?"
Reply
Peter Stubbs wrote:
"Unfortunately, a few years ago, after using the guestbook successfully for many years, I found that it was beginning to receive an increasing number of spam messages, and it was taking me a long time to identify and remove them all every day. So I closed the guest book and removed it from the site, and asked people to contact me by email rather than through the guestbook. Most people then were already sending their messages to me by email."
Peter Stubbs: 15 April 2020
Portobello
Cassidy Family
30. Annette McDonald wrote:
"I found the article on Portobello quite by accident & the Cassidy name jumped out at me. I'm afraid a great deal of the information in part of the article is incorrect."
England
I spent my entire life involved with the Cassidy family from the age of four years old until decades later when I would visit them on vacation from the US with my children. I question the information given to you by the person from England.
The only English connection may possibly be Sara, Veronica's daughter' who moved to England in her twenties. However, Sara would not confuse her grandfather Lawrence with his brother Hugh, so I have no idea who this person is."
Addresses
BTW, the Cassidy family never lived in Tower Street, though Mrs Cassidy's mother lived in King's Road, very close to Portobello Pool. The Cassidy family lived at 30 High Street, Portobello before moving to 11 Seaview Terrace in Joppa, then latterly to Peebles, where they owned the Crown Hotel. They were still living there when Mrs Cassidy came to visit me for three weeks when I lived in California."
Veronica
"Lawrence was the father, and Vera the mother. They had sons Lawrence, Peter, Paul and Sean, and one daughter, Veronica. I loved every one of them. Veronica was my school chum and great friend from my first day at St John's Primary school in Portobello, until the day she died. Veronica died in a freak accident, slipping on some ice and hitting her head, from which she never recovered. Veronica had left my home in the US just days before her death and had planned to return for a further visit at the end of January. Her sudden death, after spending a month with me at my home in Maryland, was a devastating blow. I still miss her and grieve her untimely death."
Fish and Chip Shop on the Prom
"As a young teen, I worked alongside Veronica at the small shop on the Prom, which sold candy, fish & chips and kettles of boiling water for tea to the hardy souls braving the usually chilly weather of 'the sands'. We also worked in the cafe inside Portobello Pool and at Sheddan's, the tea room that they owned at the bottom of Bath Street, on the Prom. We just went where we were needed, and I have wonderful memories of all those summer holidays working for them. It was always a great lark for Veronica and me. Mr Cassidy spent the majority of his workdays at the family-owned fishmonger shop in the High Street, close to Portobello Pool."
Return Visit to Potobello
"I last saw all the boys, except Sean, at Veronica's funeral. I had immediately come home when Veronica's daughter Mia, called to tell me of Veronica's death on 17 December, 2003, after leaving my home a mere four days prior. I stayed with Peter and his wife Sue at the Crown Hotel in Peebles, which Peter had taken over after Mrs Cassidy's death.
Lawrence, the oldest son, gave me a wonderful gift of a framed photo of the entire family the day before I returned to the US. I treasure this photo of the Cassidy family, who made me part of their family throughout my life. This photo sits on the dresser in my bedroom, where I see all of them every day, particularly my lifelong pal, Veronica. I'll send you a copy of this photo. The remaining members of my family still live in Portobello, and I continue correspondence with another schoolmate who also knew Veronica and with whom we continued on from St John's Primary to Holy Cross Academy.
I am curious as to who Eleanor MacIntyre is. I've racked my brains, but do not recall the name.
I'll be happy to provide further information or answer any questions from you or Ms. MacIntyre."
Mary Jackson: 12 April 2020
Comment
Peter Stubbs wrote:
"ANNETTE: Thank you for your email. It's always helpful to be old when I have added information to my web site that may be inaccurate. Thank you also for offering to send a copy of your photo to me. I'll be happy to add it to this page for others to see when I receive it. I've now found an email address for Eleanor McIntyre. I'll pass it on to you so that yo can try sending a message to her.
She has sent several emails to me, but the most recent one was about six years ago, so I don't know whether or not the email address that I send to you is still likely to be current."
Peter Stubbs: 15 April 2020
John McKean
Photographer
29 Hazel Moran:
"I've been searching my family tree e John McKean. I believe that he was my Great Grandmother's brother. He as born in 1849 at Roslin, Midlothian. His parents were Samuel McKean (1814-1868) born in Sorn, Ayrshire and Margaret Goldie (1821-1865) born in Edinburgh. At the time of the 1861 census, they lived at Marwelle Cottage, Roslin. Samuel's grave is in the Dean Village graveyard, Edinburgh, Plot 2H.
I also have a photograph of my grandfather, James Fleming, born 1881. This was taken by J McKean at Junction Bridge studio, Leith. In this photo, he looks to be about five years old, so the photo must have been taken around 1886."
Hazel Moran 13 April 2020
Comment
Peter Stubbs wrote:
"HAZEL: Thank you for your message. The date that yo give for your photo is consistent with the details that I have for John McKean on the EdinPhoto web site. He had several photographic studios in Edinburgh, Leith and Portobello between1882 and 1903, including one at Junction Bridge, i Ferry Road from 1882 to 1900."
Peter Stubbs: 15 April 2020
James Howie Painting
28. Matt Schooner wrote:
"I came across your website and reference to James Howie, as I was doing research on a painting we recently acquired that appears to be by a "J Howie" signed and dated 1837. I would be most curious what you could tell me about this painting."
Comment
Peter Stubbs wrote:
"MATT: In fact, there were two well known men in Edinburgh in the mid nineteenth century, both named James Howie. As far as I am aware, they were not related to each other.
- One was a photographer, as were other members of his family. You can find more about him if you search for Howie Photographer in the search field on the www.edinphoto.org.uk web site.
- The other was a painter. You can find more about him if you search for Howie Photographer in the search field on the www.edinphoto.org.uk web site.
He painted many photos of animals, including the one that you now have. I don't know much about him, but I believe that the City Art Centre and the National Galleries of Scotland (both are based in Edinburgh) might be able to tell you more about him and about your photo if you sent an email to them and asked what info they had."
Peter Stubbs: 15 April 2020
Tynecastle School
27. Mary Jackson wrote:
"I attended Tynecastle School and have a class photo from the school taken around 1958. If you are interested, I cold email a copy to you."
Mary Jackson, Victoria, British Columbia, Canada: 12 April 2020
Comment
Peter Stubbs wrote:
"MARY: Thanks for If you'd like to email a copy of your photo to me, I'll see if I can add it to this page on the web site for others to see there."
Peter Stubbs: 15 April 2020
Pre-Fab Houses
Joppa
26. Sheila Roe wrote:
"I was delighted to read all the stories from the early days of pre-fab housing. I lived with my parents at 87 Coillesdene Avenue, Joppa from just after I was born (1946) until we left to come to Australia in February 1956.
My memories are of a nice warm house with good sized garden and the 'crescent' next to us which was good for playing on. There was also a large field at the our end of the street. We used to walk down the hill to Roper's shop. The Ropers went to Rhodesia about the same time we left.
I can't remember many of the kids' names nearby but next door was Drew Owenson and next to him there was Archie. On the other side of us lived the Byers, Christine and her younger brother.
I went to Towerbank school in Portobello.
I came back for a visit to Portobello in 2006 and was quite sad to see how impersonal the area had become. I remember it as being like a village, safe and friendly."
Sheila Roe, Hallet Cove, South Australia: 11 April 2020
25. Fiona Macdonald wrote:
My Grandfather
Studio Photo
"Here is a photo taken in Edinburgh 1910. of my grandfather, Alexander Macdonald.. He went to Edinburgh University. Thanks for your site."
<![if !vml]>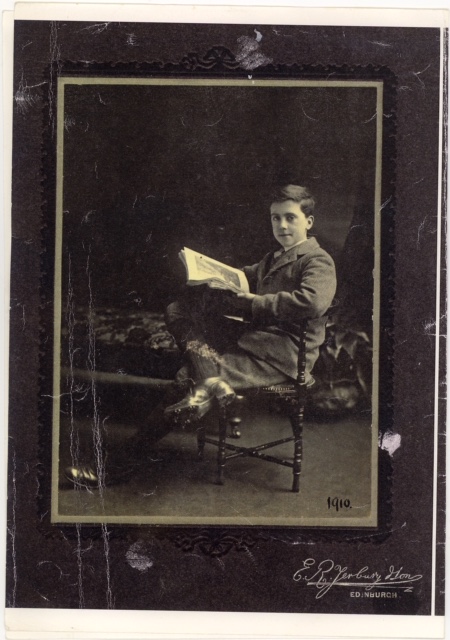 <![endif]>
Fiona Macdonald, Adelaide, South Australia: 11 April 2020
Studio Photos
Princes Street backdrop
24. Valerie Bichiner wrote:
"A cousin in Mine sent me this photo.
<![if !vml]>

<![endif]>
It looks very similar to one of the photos that I found on te EdinPhoto web site:"
<![if !vml]>

<![endif]>
Valerie Bichiner: 11 April 2020
Erskine Family at The Tofts
23. Leah Carpenter wrote:
"I'm trying to trace my mother's family who who are from the Gilmerton area. Her grandfather was Hugh Erskine (1879-1961), married to Susan and they lived at the Tofts, Gilmerton.
My mother remembers visiting her grandfather when she was small and said they had horses.
I wonder if anyone has any memories or more information about where the Tofts was. I visited Gilmerton a few years ago, but couldn't see anything that might indicate other than the road called Newtofts?
It would be great if I could share a few pieces of information with my mother who is getting on in age."
Leah Carpenter: 11 April 2020
Comment
Peter Stubbs wrote:
"LEAH: The National Library of Scotland's Map Library in Edinburgh has a large selection of old maps. The library is currently closed due to the covid 19 virus, but if you send them an email they may be able to find Tofts on one of their maps from the 1960s or earlier and let you know what they have found.
I hope you will be able to find their email address by doing a Google search on the Internet."
Peter Stubbs: 14 April 2020
Comment 2
Stewart Lyon who
"Leah Carpenter asked about the Tuft Cottages, Gilmerton. They are mentioned, together with a couple of photographs in Gilmerton Recollections 57 on the EdinPhoto web site."
(Please also see Comment 3 below.)
Stewart Lyon, Blackford, Edinburgh: 16 April 2020
Comment 3
Peter Stubbs wrote:
"Unfortunately, I'm no longer able to add an automatic link from here to Gilmerton Recollections 57. Since installing Windows 10 on my computer recently I've been encountering some problems. The FirstPage program that I use to update the web site keeps crashing when I try to add more links to the site, so I'll have to leave you to search for Gilmerton Recollections using the search field on the www.edinphoto.org.uk home page."
Peter Stubbs: 24 April 2020
Royal High School
'Gytes'
22. Pear Audio wrote:
"I'm in the Royal High School bit of the EdinPhoto web site, and it says ''gytes' were not called that at Barnton.
Sorry but they most definitely were. I think it was Deputy Head Teacher, Mr Hall, who told us about gytes and how Edinburgh Academy also referred to their newbies as gytes.
But then the Edinburgh Academy founder was educated at the High School as were many other independent school founders, Heriot, Gillespie, Watson etc.
After all there was only one school for many years."
Pear Audio: 9 April 2020
W J Hay
Searching for Descendants
21. Ian Bondeson wrote:
"I have been trying to find descendants of W.J. Hay the 'Knox Series' man, but so far without success. Since your web site has a lot of visitors, might you consider adding this appeal to it.
William James Hay was an old Edinburgh man, born in 1863 as the son of a night porter at Holyrood Palace. W.J. Hay took over the lease of one of the ground-floor shops at John Knox's House in 1902, starting his own bookselling business there. The following year, he was appointed Custodian of Knox's House, a post he would hold for many years.
W.J. Hay's appointment at Knox's House coincided with the Edwardian postcard boom, and the canny bookseller lost no time before joining the postcard gravy train, selling the cards in his shop with good profit. He issued cards of Knox's house from the outside, as well as cards showing the Reformer's bedroom, audience room and study, as he called them. He called his cards the 'Knox Series' and there are 200 or so in all, some of them quite scarce and sought after today among the postcard fanciers.
The 1911 Census lists the 47-year-old William James Hay as living in John Knox's House, 45-49 High Street, with his 84-year-old father John, his 17-year-old son William and a general servant.
What had happened to his wife Mary Jane is not known, but she was still alive when they celebrated their golden wedding several decades later. Nor do we know if they had other children who had left the parental home.
W.J. Hay was an active member of the Old Edinburgh Club, and of various literary societies, exerting a wholesome influence of good in the Edinburgh cultural world. At the time when W.J. Hay died at a Portobello nursing home in January 1955, the Custodian of John Knox's House was his son William Carment Hay, who had married in 1921 and who would live on until 1977.
His great-grandson Graham Hay surfaced in Australia 15 or so years ago, making himself known at the EdinPhoto internet home page. but has since disappeared without trace. Are there descendants of William James Hay out there, in Australia or elsewhere?"
Ian Bondeson: 9 April 2020
Reply
Peter Stubbs wrote:
"IAN I remember corresponding by email with Graham Hay in Australia over a few months, about 15 years ago, but subsequently I lost touch with him. I don't know whether he is still alive or not, but his old email address certainly does not appear to still be alive.
I remember that Graham had been taking a keen interest in William J Hay's life and work. However, Graham told me he regretted that William J Hay's son (or perhaps it was his grandson) never took any such interest in the work of WJ Hay and much of WJ Hay's work had been disposed of following his death.
Graham never hinted to me that there might be any other surviving members of the Hay family who shared his interest in WJ Hay."
Peter Stubbs: 9 April 2020
Isa's Chat 'n' Chew
Cafe
20. Sigrid Nielson wrote:
"I messaged you a few years ago while doing research about Leith Docks for a Citadel Arts Group play.
We are now doing a new play about a Leith cafe called Isa's Chat 'n' Chew. I am sure I remember seeing the cafe in the 1970s or 1980s.
I can't find anything about the cafe on your site, but I wondered whether you might have heard of it or know where I could find out more"
Sigrid Nielson: 8 April 2020
Reply
Peter Stubbs wrote:
"IAN: I don't remember the cafe myself. Perhaps somebody else will remember it and send me a message about it. If they do, I'll pass on their message to you."
Peter Stubbs: 8 April 2020
Reply 2
John Brady wrote:
"Isa's Chat 'n' Chew was in Portland Place. This Google street view shows the location."
John Brady , Perth & Kinross, Scotland: 11 April 2020
Chameleon and Aquarius
Discos
19. Dave Imrie wrote:
"Does anyone remember the Chameleon disco in Abercromby Place and Aquarius disco in Grindlay Street Edinburgh?"
Dave Imrie: 8 April 2020
Ferranti
Searching for John Gowans
18. Paul Wallace wrote:
"I last contacted you in 2014 about a chap called Davie Bold whom my father (Philip Wallace) was looking for. You successfully found Davie's contact details through a chap called Eddie McDonald. Dad did meet up with Davie later that year and it was a great reunion.
Dad was wondering if it would be possible to also find a chap called John Gowans who worked at Ferranti around the same time as him (1958-63). John would be 83 now. He moved to Dunfermline where he joined the police force there and was married to Morag.
Again, any help would be gratefully appreciated.."
Paul Wallace: 7 April 2020
Hailsend Primary School
17. Ian Paterson wrote:
"I was in Miss Cowe's class at Hailesland Primary School, Wester Hailes in 1973-74.
I took Gillian Carneyhan to the school Prom."
Ian Paterson: 6 + 7 April 2020
Lismore School
P7, 1967
16. Bob Skeldon wrote:
"I have just discovered this old Lismore/Bingham picture"
Bob Skeldon: 31 March 2020
Comment
Peter Stubbs wrote:
"Bob sent me a copy of a photo of his class - 28 pupils, many of them wearing 'Prefect' sashes, and their teacher.
Unfortunately, I cannot easily add this photo to the EdinPhoto web site, but I would be happy to forward Bob's email to you. Please email me to let me know if you would like me to do that."
Peter Stubbs: 8 April 2020
St Hilda's School
15. Jan Dollar wrote:
"I see you have some comments about St Hilda's school. My mother b.1911 was a pupil there in the 1920s.
I have some photographs, a list of signatures and a school hat band if you are interested."
Jan Dollar: 30 March 2020
Portobello
14. Carol Scott wrote:
"My mother was born in Portobello 1942, her father Alexander Rae played in a band roundabout this time at hotels on the promenade also the dance hall think it was at Seafield near cat and dog home . Would love information on bands round about that time , even photographs. I worked in the arcades 1972 have lots off good memories , even an old post card open air pool "
Carol Scott: 27 March 2020
Langfier Family
Photographers
13. Jody Avren wrote:
"I have inherited Eric Samuel Langfier's paperwork and family pictures. He is the son of Louis Saul Langfier. Could someone please let me know who descendents are so I can get in touch with them?"
Jody Avren: 25 March 2020
Douglas Fraser
Photographer and Poet
12. Frank Harkness
"I have enjoyed Douglas Fraser's poems for many years. He wrote a poem called 'Whins in Kintyre' relating to the village of Carradale. I have visited Carradale with my family for nearly 50 years.
I wonder if Douglas took photographs or painted in the area. They would be of great interest not only to myself but to local people. Do you have any knowledge if anything by Douglas relating to Carradale exists or is there anyone who might know?"
Frank Harkness: 25 March 2020
City Hospital
Photos
11. Ruth Robertson wrote:
"My mother trained at the City Hospital in the 1920s and I have photos of this time. I now have cancer and would like to donate these photos to the Archives as it is the end of the line.
Can you please give me an address."
Ruth Robertson: 25 March 2020
Reply
Sheena Irving wrote:
"Edinburgh University holds all these records. I have researched in their archive. I'll send an email to Ruth."
Sheena Irving: 1 April 2020
Sighthill Prefabs
Timber Houses
10. Ian Murdoch wrote:
"One of the emails of the history of Sighthill was by Lilian Young who lived at what we used to call the Timber houses. In the early prefabs
I recall a pretty girl Ena Smiley who may have been in the same class with me and Lilian among others. Ena was a policeman's daughter. I wonder if anyone might have heard from or about her."
Ian Murdoch: 22 March 2020
Leith Links School
Photos
9. Reg Thomson wrote:
"I am looking for football photos from Leith Links School.
I think it was the Mackie Shield and it would be the early 60s I was in the same team as the only 2 guys I can remember John Woods he was the captain and Eric Sawyers and the teacher was Mr Dow."
Reg Thomson: 22 March 2020
Gilmore
Family History
8. Sara-Lois Cunningham wrote:
"I am looking for information on the following people:
- Pat or Pansy Wright/Smythe
- Faith Gilmore - she was born in 1931 and lived in Ivy Terrace as a girl and went to Craiglockhart Primary School then Tynecastle Secondary School.
- Ina Gilmore
- Grant Gilmore, who was married to Pat and then Chrissy
My great grandfather was Ina Gilmore's husband and he used to run a shoemakers in Leith. It would have been in the 1940s, I think. Or soon before. I need to find out his name.
I would be grateful for any pointers."
Sara-Lois Cunningham: 21 March 2020
Valentine & Sons
Small Book
7. Anne Larmer wrote:
"Hi just out of curiosity, I'm emailing you. I found a wee book in my Da's belongings with the Durie Brown address.
This wee book is part of the Valentines Birthday Series, given as a gift in 1916. Its a wee bit rough on the outside but lovely inside. Something to pass down the generations to treasure. Yours sincerely Anne Larmer Bluff Nee Zealand."
Anne Larmer: 21 March 2020
Lutton Place
6. Lisa Keith wrote:
"I'm trying to find an old photo of Lutton Place for a gift for a friend who has lived there for over 35 years and is moving house.. The only photos I can see are from the bottom end. Do you have any from the top end? Ideally of the corner of Lutton place opposite the church?"
Lisa Keith: 18 March 2020
Brown Brothers
5. Ian Whyte wrote:
"I have just found some photos I took inside Brown Brothers just before it closed.
I was wondering if you would like to share them on your website?
Unfortunately I don't have a scanner, is there anyway to get them to you?"
Ian Whyte: 18 March 2020
Craiglockhart Poorhouse
Colinton Road
4. Arthur Moscrop wrote:
"I have been doing some family history and I found my maternal great grand parents died at 144 Colinton Road, death recorded by occupier as senility.
1n 1928, was this place a hospital?
Another great grand parent died in the poorhouse at Craiglockhart' signed by Assistant Governor."
Arthur Moscrop: 15 March 2020
Update
Arthur Moscrop wrote again:
"I have now found a site plan of the whole complex. It has a driveway leading into Comiston Road.
There are now flats on some of the site, but when my great grandfather and his wife died (in 1918 and 1928) there was a Poorhouse on the site.
They just put the address 144 Comiston Road, on her Death Certificate, I think to make it look more respectable".
Arthur Moscrop: 28 March 2020
Broughton and London Road Schools
3. Ian Bartlett wrote:
"I also attended London Street primary from 1948 to 1955 before moving to Broughton Senior Secondary. In fact I was in the same class as contributor no 12, Ian Stobie, throughout my time there.
I still have a class photo taken in 1954.
I often wonder what became of everyone in that class and what it would be like to meet up with some of them again. I remember that we had two lads in that class with directly opposing surnames - Jackie Fowler and James Playfair."
Ian Bartlett: 13 March 2020
Ratho
Houses
2. Hazel Kerr wrote:
"I am keen to know if you have photos and information on some of the old estate buildings which border Ratho Golf Club along the canal edge. One in particular looks ecclesiastical and is presently having ground work done."
Hazel Kerr: 6 March 2020
Broughton School
1. Alexandrena Boreham wrote:
"Hi Peter I would like to contact Babs McGill I knew her as Babs Husband. I lived in York Place my name was Ena Fenton and I now live in Calgary Alberta Canada. I am married to Stan Boreham who played Ice Hockey for the Murrayfield Royals.
I was at Broughton School from 1952 to 1956. Babs and I were in a swimming club which took place in the evenings at the school. We would walk to the swimming club together singing all the songs from the Pyjama Game. It would be great to have news of her as I am often in New York. Thank you Ena Boreham."
Alexandrena Boreham: 3 March 2020
Messages that I have NOT been able
to add to the EdinPhoto web site.
I'm still receiving a steady flow of emails and suggested contributions to add to the EdinPhoto web site.
However, the site has become rather unwieldy. After continuing to update the site for 20 years, it now has over 25,000 photos and over 25, 000 pages, and is no longer easy to update.
I'm still using the Outlook 2003 program to make my occasional updates to the site, but this program is now 17 years old and is no longer supported by Microsoft. It not well suited to the needs of people viewing on mobile phones or using social media, and even including a few simple updates in the site can be quite time-consuming.
So I decided last year that:
a) I'll continue to keep the site live, so that people can continue to search and browse its existing content BUT
b) I don't anticipate being able to continue to update the site to include further contributions that I receive
Peter Stubbs: 27 March 2020
Please be patient. Some of these pages may be slow to load.
15 Jan 2020

The future of EdinPhoto web site

Please see
below

Thanks for all the emails

Thank you to all who have sent over 100,000 emails to me over the past 20 years. I have added the content from most of these to the www.edinphoto.org web site.

www.edinphoto.org.uk - Less frequent updates

However, by 2017-18, emails were arriving here faster than I could cope with them, and I reluctantly came to the conclusion in mid-2018 that I would no longer be able to find the time to continue to update the site, except in exceptional circumstances. I then had a backlog of over 1,000 emails to reply to. I've now replied to them all, but still cannot find the time to add many updates to the web site.

www.edinphoto.org.uk Viewing the current site

Despite being unable to add much new material to the site, I intend to ensure that it continues to be available on the Internet, so that people can continue to search and browse its existing content.

www.edinphoto.org.uk Maybe no more updates

As for the future, updates are likely to be made even less frequently than in recent months, and perhaps not at all if I encounter problems in using my old Microsoft Front Page 2003 program (now well past its 'sell by date') with Windows 10.

I may change from Windows 7 (no longer supported by Microsoft since yesterday) to windows 10 within the next few days. I still have to make a final decision on this. There appear to be advantages in remaining on Windows 7 and advantages in moving to Windows 10.

Peter Stubbs: 15 January 2020 email: peter.stubbs@edinphoto.org.uk