Albany Series Postcard
Liberton
Liberton Village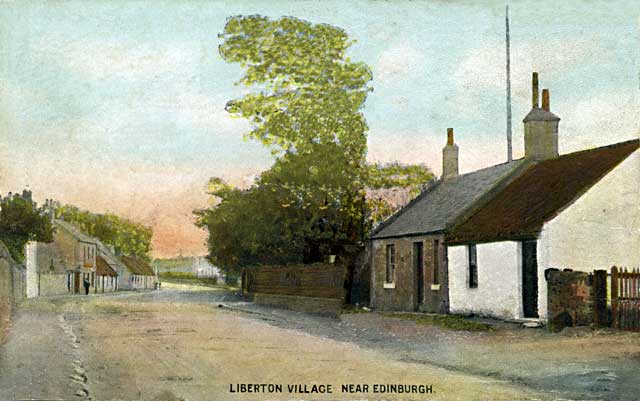 © Reproduced with acknowledgement to Eric Nisbet, Barnton, Edinburgh, formerly Gilmerton, Edinburgh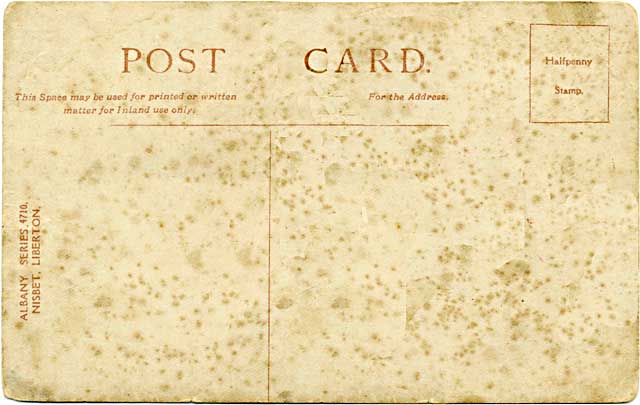 © Reproduced with acknowledgement to Eric Nisbet, Barnton, Edinburgh, formerly Gilmerton, Edinburgh
Albany Series Postcard
Liberton
Thank you to Eric Nisbet whose family lived in Liberton for many years, for providing the images of the postcard above.
This card card is published in Albany Series 4710. It has not been sent through the post.
What is the significance of the name 'Nisbet., Liberton' on the back of the postcard. Was it perhaps the photographer, or the name of the shopkeeper who ordered or sold the card? Is there any connection between this name and Eric Nisbet who provided me with the reproductions of this card?
Eric replied:
"I was born in Gilmerton in 1941. My father family lived in Liberton in the cottage shown in the postcard and the name noted on the back was probably taken from the name on the nearest door."
Location
Thank you to Forbes Wilson who wrote:
"I recognise this postcard of Liberton Village. The image is taken looking south along Lasswade Road from the crossroads formed by Kirkgate, Kirk Brae and Mount Vernon Road.
The Liberton Inn and the Liberton Kirk are immediately behind from where the image was taken. On the right of the postcard and behind the cottages is where Dr Guthrie's industrial school is located.
When at Hyvots Bank primary school, we used to attend swimming classes in their swimming pool. On the left of the image and where you can see a pedestrian, there used to be a sweet shop there."
Forbes Wilson, near Guildford, Surrey, England: April 1, 2007