Trawlers
at
Granton Harbour
Trawlers moored against Middle Pier, Granton Western Harbour
1930 or earlier (See Answer 1 below.)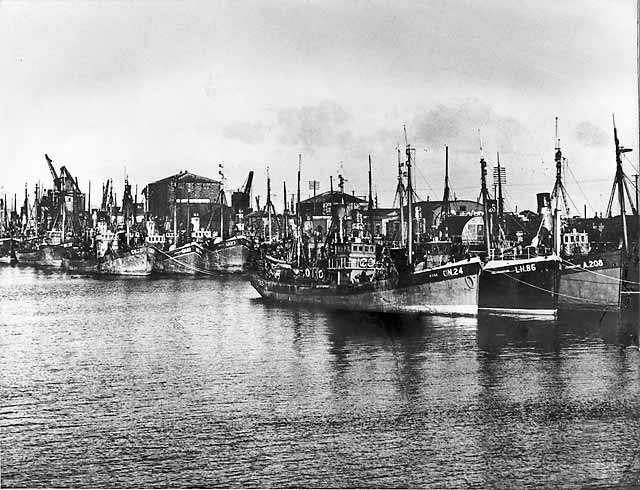 © Reproduced with acknowledgement to Darnie Devlin, grandson of Thomas Leishman Devlin, trawler owner, Granton.
Trawlers at Granton Harbour
The trawlers in this photo are:
A 208: Controller
GN 22: Contender
GN 24: Rose
GN 37: Benjamin Coleman
GN40: Corialanus
GN 56: ?
GN 101: Madden
LH 86: Ratapiko
Questions
When was this photo taken?
What was the name of trawlerGN56?
Answer 1
Dare of the Photograph
Thank you to John D Stevenson, researcher and historian, for estimating the date of this photograph. John tells me:
- Olsen's Fisherman's Almanac (1929) includes GN24, a trawler named 'Rose'. This trawler then moved to Glasgow.
- Olsen's Fisherman's Almanac (1930) shows that the number GN24 has now been allocated to a different trawler, one named: 'Elise I Carnie'
So the photograph at the top of this page must have been taken in 1930 or earlier.
John D Stevenson, Trinity, Edinburgh
Answer 2
The Trawler 'Starbank'
Thank you to Dave Simpson who wrote to tell me that the name of the trawler GN56 was Starbank.
Dave added:
"There were originally two 'Starbank's (GN56 & LH154). My grandfather worked on one of them in the 1940's, possibly LH154.
A lot of my family come from, and still live in, Granton, Newhaven and Leith. I'm not old enough to remember the trawlers at Granton Harbour, but I've followed the family tradition and currently work in the fishing industry."
Dave Simpson, Pilton, Edinburgh: October 22+24, 2008