Edinburgh Clubs and Discos - 1960s
Charity Reunion Night
POSTPONED
This event was to take place on September 12, 2008.
Unfortunately, it has had to be postponed, probably
until some time in 2009. When I hear any more news
about the event, I'll add it to the web site.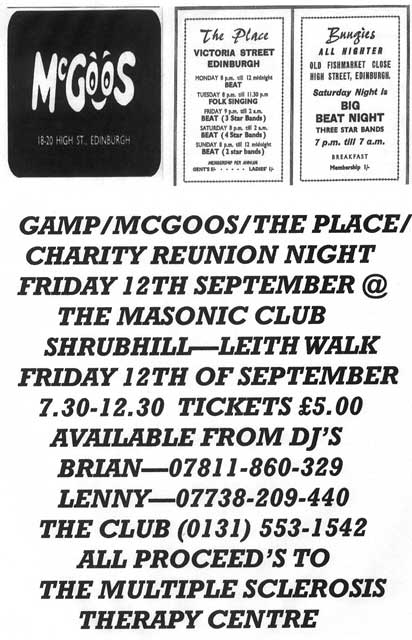 © Reproduced with acknowledgement to Lenny Toshack, Leith, Edinburgh
Charity Reunion Night
Thank you to Lenny Toshack for sending me this flyer for a Charity Reunion Dance to be held at Shrubhill.
Lenny wrote:
Tickets
"We've not had much time to organise this year's event, but there has been a lot of interest in it, and people are wanting tickets which we still have to get printed.
If this year's Charity Reunion Night is a success we aim to have maybe two a year."
Lenny Toshack, Leith, Edinburgh. August 4, 2008
Lenny subsequently wrote:
Postponed
"We've had to postpone our Reunion Dance. We have asked the club for another date, but we don't think it will be this year.
What a bummer !!"
Lenny Toshack, Leith, Edinburgh. August 8, 2008