This is one of several photos of the Gracemount district of Edinburgh, taken by Jimmy Cunningham in 2009.
Jimmy Cunningham sent me a brief history of this house:
History
"A house was built on the site of St Catherine's House in 1806. Confusingly, it was named St Katherine's.
There was a Chapel to St Catherine of the Kaimes that once stood nearby, but had disappeared before the construction of St Katherine's began in 1806.
St Catherine's Well (also known as the Bram Well of St Catherine) has stood for many centuries and is still in the gardens of the house.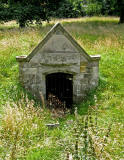 ©
Oliver Cromwell's army camped in the grounds around the well when he was here to ransack Edinburgh."
One of the residents in St Katherine's House was the Lord Advocate, the judge who tried Burke and Hare.
Visitors to the house included Sir Walter Scott in 1825.
During the 20th century, the house has been a children's home and a centre for the elderly. It then lay derelict for several years before being converted to a restaurant, now named Balmwell after the well in its grounds.