Michael's Café, Old Tolbooth Wynd, Leith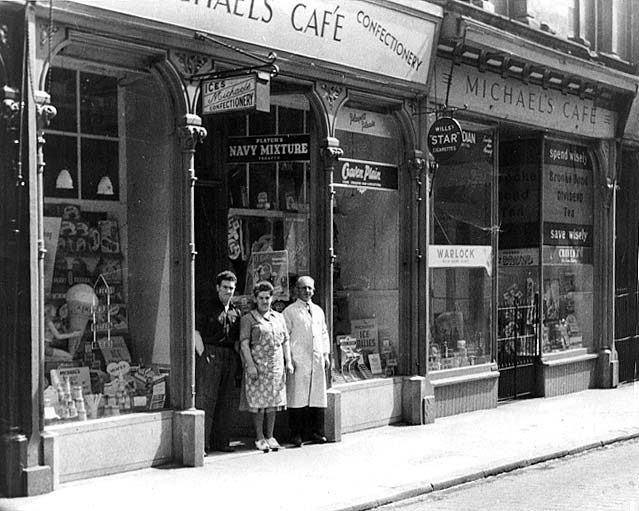 © Reproduced with acknowledgement to Daniele Iannarelli, Edinburgh September 27, 2010
Michael's Café
Thank you to Dani Iannarelli for allowing me to reproduce this photograph of his grandfather's Café in Old Tolbooth Wynd, Leith
Acknowledgement: Daniele Iannarelli, Edinburgh: September 27, 2010
The people standing in the doorway are:
- Danny (Dani's father, the boxer)
- Luisa (Dani's grandmother)
- Michele (Dani's grandfather)"
In the Shop Doorway
Michele (Michael) also sold ice cream from a pony and cart. Here is a photo of his pony and cart at Leith Links.
Leith Gazette Obituary
Thank you to Daniele Iannarelli for also sending me an obituary to his grandfather, published in the Leith Gazette on July 11, 1980. I have taken the following extracts from this obituary:
"Mr Michael Iannarelli, the cheery proprietor of Michael's Café in Tolbooth Wynd, near the old Kirkgate, died on Sunday, aged 86.
Mr Iannarelli, of 7 Links Gardens, Leith will be remembered by earlier generations as the driver of the horse-drawn ice cream cart which made the rounds of Leith before the arrival of the ice cream van.
Mr Iannarelli left his native Montaquila, in the province of Isernia when he was 11. A few years later he returned home to marry Louisa, then 15-yars-old. The couple were following the Italian custom of marrying young.
Shortly after returning to Leith, Michael and Louisa established a successful ice cream business, and eventually opened a Café. They worked together in the Café for many years and the customers were saddened at the death of Louisa two years ago.
The couple were well respected in Leith, and regarded by all as Leithers. Every year, Michael would drive his ice cream cart in the Leith Pageant, donating to hospital funds all the day's proceeds."
Source: Leith Gazette, July 11, 2080
with acknowledgement: Daniele Iannarelli, Edinburgh: October 3, 2010