Coronation Party 1953
Rankeillor Street, Southside, Edinburgh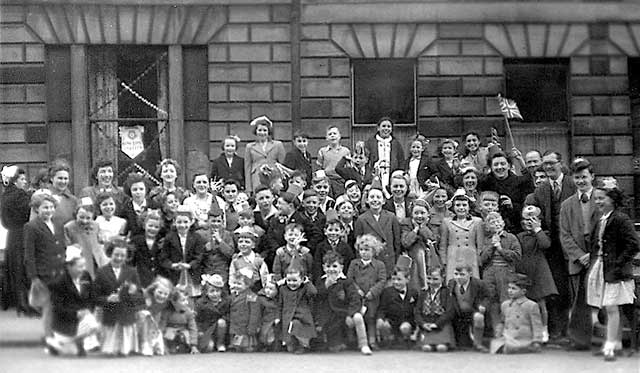 © Reproduced with acknowledgement to Ron Leckie, California, USA: July 16, 2007
Coronation Party 1953
Thank you to Ron Leckie, one of the members of the Leckie coal family of St Leonards, for sending me this photograph.
Ron wrote:
1953
"Here is a photo of the Street Party in Rankeillor Street, Edinburgh, on June 2, 1953 for Queen Elizabeth's coronation.
I am the little boy fourth in from the right on the (kneeling) front row, complete with bow tie, handkerchief in top pocket and funny hat.
My parents, Hugh and Jessie Leckie are back and to the right. We stayed at No. 25, first floor/second flat from about 1950 until 1971.
"I remember everyone on the street helping to raise money for the Street Party with various activities."
We were one of the first homes on the street to have a black and white television. The screen must have been only about 9 inches and we had a magnifying lens to put over it.
What we did was open up our home for viewing of certain TV shows for admission of few pence, which all went towards funding the party.
The street was closed off at both ends and was decorated with flags and banners. Benches were obtained from somewhere and laid out with food/drinks, and there were typical party games."
Ron Leckie: California, USA, July 16, 2007