Bellevue
School Class
1930-ish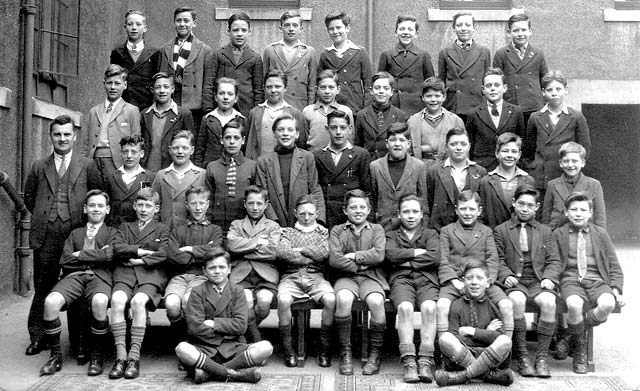 © Reproduced with acknowledgement to Neil Johnston, Cheltenham, Gloucestershire, England Photographer not known
Bellevue School - Boys
Around 1930
Thank you to Neil Johnston for sending me the photograph of a boys' class at Bellevue School, taken some time around 1930.
The teacher is very smartly dressed. Some of the boys have their jackets buttoned up high and others are wearing them more casually. One appears to be wearing a football scarf!
Neil wrote:
"M dad, Alexander Johnston is 2nd from the right, second row from the back."
Neil also sent me photos of Leith Walk school, and added:
"It looks like the photographer even brought his own carpet - different schools, same carpet."
Acknowledgement: Neil Johnston, Cheltenham, Gloucestershire, England: May 17, 2009
Bellevue School - Girls
Here is a photograph of another class at Bellevue School, also taken around 1930 and sent to me by Neil.
Acknowledgement: Neil Johnston, Cheltenham, Gloucestershire, England: May 17, 2009