Class 5C in 1948 (or possibly VI Form, 1948-49)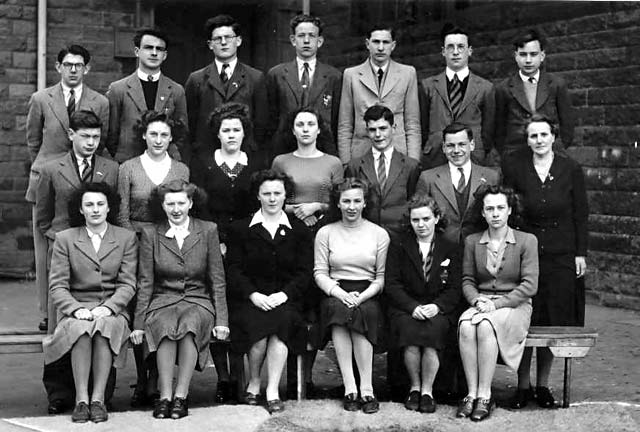 © Reproduced with acknowledgement to George T Smith, British Columbia, Canada [Photographer not known]
Boroughmuir School
Thank you to George T Smith for sending me the photograph above.
George wrote:
"I don't know if this fashion plate is of interest. I can remember a few of the names to go with these serious faces, as follows:
BACK ROW:
Sidney Zolte?, George Smith, David Small (Dux),/?,?, John Allsop?
MIDDLE ROW:
?,?,? (but she starred as 'Puck' in the annual concert at the Usher hall), Joy Perkins (I think), David Dick,? Teacher (was it Mrs Watson?)
FRONT ROW:
Margaret Watson,?, Margaret MacNee(?), ?, Marie Vine.
I know that some of these males went on to prominence in Civil Engineering, mainly in Edinburgh.
Someone may be able to identify the other fashion victims. Spot your grandad / grandma
George T Smith, Nanaimo, Vancouver Island, British Columbia, Canada: March 26, 2007