Class 2A2 - Around 1946-48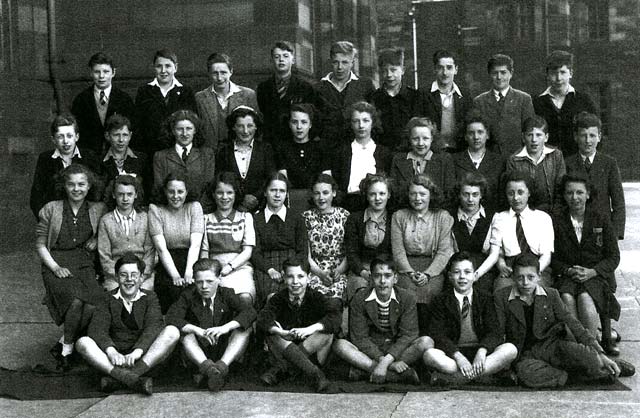 © Reproduced with acknowledgement to James Munro, Le Tonkin, SW France Photographer D&W Prophet, Dundee
Broughton High School Class
Thank you to James Munro, now living in Le Tonkin, SW France for allowing me to reproduce this photograph of pupils in his class, 2A2, at Broughton High School. The photo was taken around 1946-48.
James is in this photo, standing next to the boy at the right-hand end of the back row as we look at the photo.
James wrote
Class 2A2
"As you can see, the result of clothing coupons made the acquisition of school uniform pretty well impossible. (No doubt, parents were delighted at the resultant savings.
Despite appearances, there were some pretty clever individuals, and we were not quite as ugly as the picture suggests."
Acknowledgement: James Munro, Le Tonkin, SW France: letter, September 1, 2011