Broughton High School
Rugby Team
First XV or Second XV?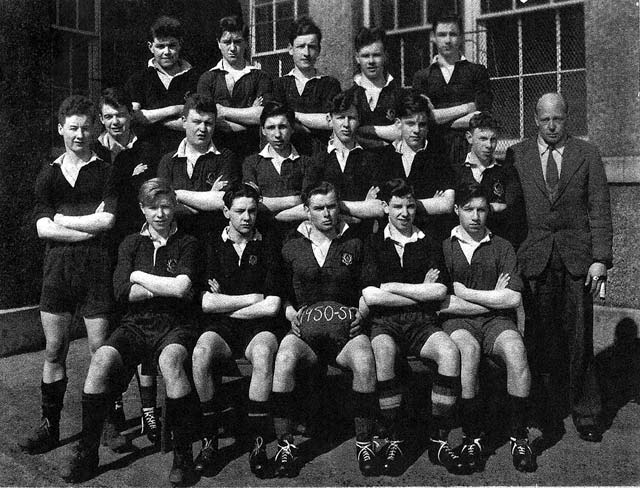 © J Campbell Harper, Edinburgh Reproduced with acknowledgement to James Munro, Aneres, SW France
Rugby Team
Thank you to James Munro for allowing me to reproduce this photo, and for providing the names below.
James, who lived in Granton Grove, Edinburgh for 34 years, and now lives in SW France, added:
Rugby Team
"The PE teacher was Douglas Mitchell.
For the life in me, I cannot remember whether this was Broughton School's First or Second XV but you can see that frowns and stern appearance were the order of the day."
James Munro, Aneres, SW France: Letter, July 26, 2011
Archie Foley replied:
"I think this team is probably the Second X."
Archie also supplied the names of a couple of players bellow.
Broughton High School

Rugby Team 1950-51

The players in this photo are, left to right:

Back Row

Middle Row

Front Row

1.

?

Willie Simpson

?

2.

James Munro

Bill Holland

?

3.

Crawford McLeary

?

James Meiklejohn

4.

Ronnie Watson
?

Alistair Mutch

5.

?

Ken Burnett

Colin Verth

6.

Stewart Sangster

7.

John Harrison

Names in black supplied by James Munro, Aneres, SW France: Letter, July 26, 2011

Names in red supplied by Archie Foley, Joppa, Edinburgh. August 2, 2011