Canongate Boys' Club
Basketball Team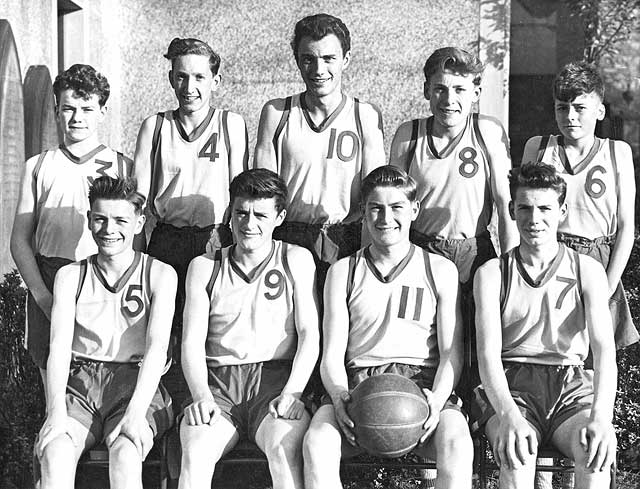 © Scotsman Publications Ltd, Edinburgh Click here for web site details. Reproduced with acknowledgement to Ian Wood.
Recollections
1.
Ian Wood
Ottawa, Ontario Canada
Basketball Team
Thank you to Ian Wood for sending me the photo, above, of Canongate Kirk Boys' Club Basketball Team. Ian is second from the left on the back row.
This photo was taken in the late 1950s, when the Canongate team, in their new strip, played an exhibition game against a team from Donaldson's Hospital in the first of the season's Corporation sponsored entertainments in Princes Street Gardens.
BACK ROW (left to right): R Waugh, I Wood, J Beaumont, S McFarlane,
D Bathgate
FRONT ROW (left to right): R Long, I McKenzie, P Fisher, I McKellar
Ian added that Pringle Fisher, in the front row of the basketball team, went on to become Captain of the Scottish Rugby team in the 1960s.
Acknowledgement: Ian Wood, Ottawa, Canada: January 7 + 24, 2009
Ian Wood who sent the comments above tells me that he emigrated to Canada in 1961, but still gets back to Scotland at least once per year. He organizes golf trips for groups from Canada who wish to play golf in Scotland. This gives him the chance to meet friends and family in Scotland.
Recollections
2.
Mike Melrose
Greenbank, Edinburgh
Thank you to Michael Melrose who wrote:
Basketball Team
"Ian Wood's comments (1 above) refer to Pringle Fisher, holding the ball in this photo, who went on to become Captain of the Scottish Rugby team.
Also in the photo is Dave Bathgate, on the right in the back row. He became a leading international mountaineer. Dave took part, and still takes part to this day, in expeditions to the high mountains of the world.
Dave, with Graham Tiso and Hamish McInnes, were part of the successful 1975 British Everest Expedition who were the first to succeed in climbing the North West face of Everest.
I still see Dave from time to time. He was a member of The Squirrels Climbing Club and I was a member of The Urchins Climbing Club, both of Edinburgh. Both clubs had ownership of a hut in Glencoe known as 'The Drey', as in squirrels
Mike Melrose: Greenbank, Edinburgh: January 26, 2009
Recollections
3.
Ian Wood
Ottawa, Ontario Canada
Thank you to Ian Wood who wrote to tell me news about one of the players in this basketball team.
Ian wrote:
Pringle Fisher
"I unfortunately have to inform you that my friend Pringle Fisher has recently passed away, aged 70."
Ian Wood, Ottawa, Canada: May 5, 2009
Pringle Fisher
Obituary
Ian also sent me a copy of an obituary to Pringle Fisher that appeared in 'The Scotsman' newspaper. The obituary referred to Pringle's sporting achievements including having been:
- an outstanding athlete at Edinburgh Royal High School.
- Scottish rugby captain, winning 25 caps for Scotland, 1963-68.
- British basketball player in Rome Olympics, 1960.
Pringle studied dentistry at Edinburgh University, then went on to join the Royal Dental Army Corps, 1964, serving in London and Germany then Singapore.
'The Scotsman: April 27, 2009