The Carlton Orchestra
"Here is a photo of The Carlton Orchestra.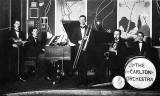 ©
My grandfather, William (Bill) Brunton is playing the piano in this photo.
It's possible that the man playing the violin was Harry Desson and that the drummer was Stungo.
Does anybody recognise the men playing the saxophone or the trombone
I don't know whether or not the band's name was connected with a hotel or dance hall. I would be very greatful for any information that anybody could give me."
Claire Graham: July 18 + 21, 2014