Employees of
R&R Clark
Brandon Street, Canonmills, Edinburgh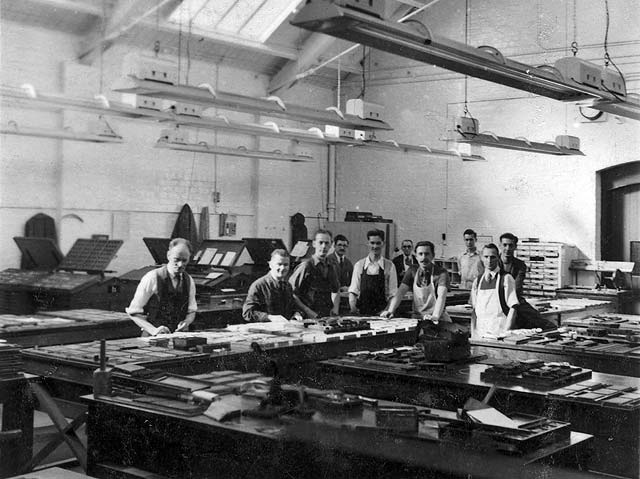 © Reproduced with acknowledgement Jim Cairns, one of the workers at R&R Clark in the 1950s Photographer not known
R&R Clark
Thank you to Jim Cairns for sending me this photo of compositors at R&R Clark's works, Brandon Street, Canonmills.
Jim wrote:
Caseroom No.2
"The compositors in this photo are in Number 2 Caseroom. The photo would have been taken around 1953. The men that I recognise (left to right) are:
- Willie Lonsdale
- Gordon Pearse
- Jock Brown
- ?
- ?
- Willie Robertson
- ?"
Jim Cairns, Dunfermline, Fife, Scotland: May 13+31, 2012
Another Photo
Here is another photo from Jim, also taken at R&R Clark's works in Brandon Street:
YouTube Video
R&R Clark was founded in 1846 and remained in business in Edinburgh until 1979.
Jim Cairns has been collecting photos of R&R Clark employees at work and at play, and photos of tickets and programmes for social functions that the company has produced over the years, the earliest dating back to 1887
Jim has now put these together to create an interesting a 21-minute film on YouTube that captures the atmosphere of the company and its workers. The film is titled: