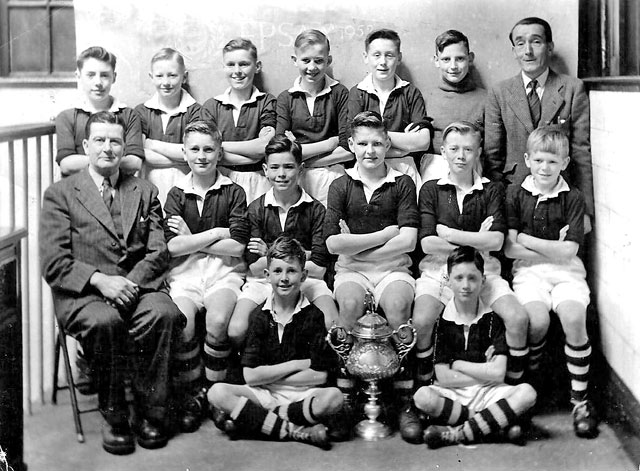 © Reproduced with acknowledgement to Alex Smith, Spain Photographer not known
Dalry Road Primary School
EPSAA League Winners ***
1952
Thank you to Alex Smith for sending me this photo of Dalry Primary School, 1952 EPSAA League Winners, and for providing the names of most of the people in this photo, including himself. See below.
Acknowledgement: Alex Smith, Spain: July 26, 2012
*** Note: EPSAA = Edinburgh Public (or is it Primary?) Schools Athletics Association.
Dalry Primary School

Names: left to right in each row

Back Row

Middle Row

Front Row

1

James Gormley

Mr Bedford?
Headmaster

Ian Sneddon

2

Robert Trotter

Ian Murray

?

3

Colin Robertson

Sandy Elliot

4

Archie Wilson

Billy HIggins

He went on to play for Hearts for many years, and possibly for Scotland

5

Alex Smith

?

6

Leslie (Bounce) Scott

?

7

Mr Stevenson
Teacher in charge

Acknowledgement: Alex Smith, Spain: July 26, 2012