Drumdryan Street
Near the King's Theatre, Tollcross, Edinburgh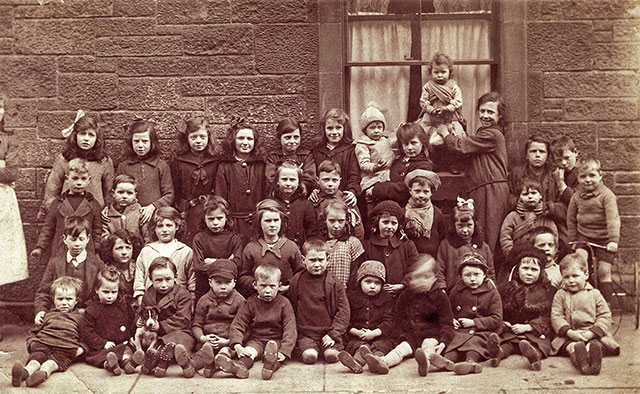 © Reproduced with acknowledgement to Graeme R A Hendry, Edinburgh.
Drumdryan Street Kids
Around 1919
Thank you to Graeme Hendry for sending me this photo and telling me about it. I found the photo to be appealing and thought that it captured the period well:
- 38 children (just one of them moving when the photo was taken)
- one and a half adults, and a dog.
Graeme wrote:
Old Postcard
Family HIstory
"Whilst tracing my family tree, together with a cousin who lives in the USA, I've been looking for old photos and postcards of Edinburgh, ships that our ancestors sailed in, etc. to show to her."
Old Postcard
"Here is an old postcard that I picked up recently on eBay. It has nothing to do with my own family history, but has:
'Drumdryan Street Kids 1919?'
written on the back of it.
From the house frontage thatís visible, I think thatís probably where the photo was taken. The clothes the children are wearing would be correct for just after the 1st World War."
Restoration
"This is the grubbiest postcard Iíve ever handled, not just the dirt of ages, and general handling, but it also has what looks like traces of somebodyís breakfast on it.
I've used Photoshop Elements in an attempt to remove some of the worst marks and correct the contrast, while trying not to radically alter the image at all."
Graeme Hendry, Edinburgh: March 8 + December 11, 2013 (2 emails)
Photo added to Edinphoto web site December 11, 2013, with my apologies
to Graham for having taken so long to add his photo and comments to the web site.