The Photo
"Recently I came across some old family photographs. Here is one of them, a photo probably of Edinburgh weavers and loom workers, taken around 1915-25.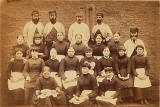 ©
The Workers
"I know little about this photo. It appears to be a group of weavers or loom workers I think it may have been taken between about 1915 and 1925. My grandmother, Annie McLaren (née Gilbertson) is third from the right in the second row."
The Workers
"The address, '20 Preston Street', has been handwritten on the back of this photo. This may have been the address of the work place or the photographer. I know that it was not my grandmother's address.
I have tried to find out about weaving in Edinburgh online, but have not been able to find anything that would be a connection to this photo. My grandparents married in 1922 and on the marriage certificate my grandmother was a 'tinplate solderer' - I think the photo may have been taken prior to that."
Laura Hammersley: October 1, 2013