Gorgie District
Pipe Band
Photo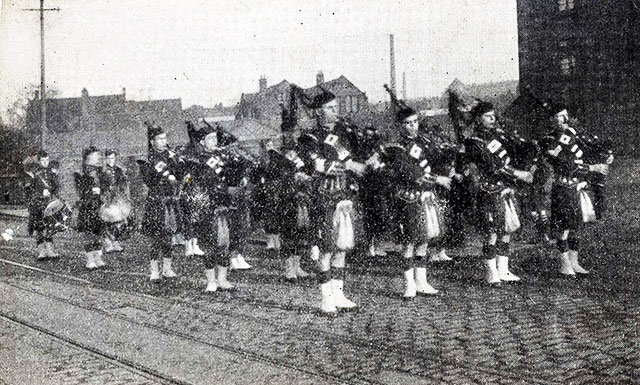 © Reproduced with acknowledgement to Kenneth Williamson, Silverknowes, Edinburgh
Back of the Photo - Fund Raising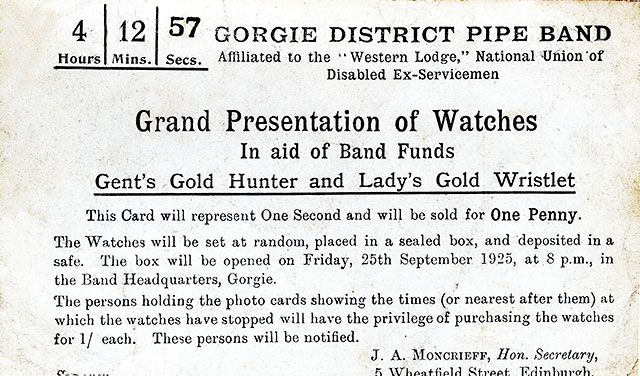 © Reproduced with acknowledgement to Kenneth Williamson, Silverknowes, Edinburgh
Comment
1
Kenneth Williamson
Silverknowes, Edinburgh
Photo and Fundraising
Thank you to Kenneth Williamson for sending me this photo.
Unfortunately, the photo of Gorgie District Pipe Band appears to be fairly poor quality. That's not really surprising, given that it was sold for one old penny, and that penny included a contribution to fundraising for 'Western Lodge' of 'National Union of Disabled ex-Servicemen'.
I found that the fundraising comments on the back of the photo made interesting reading.
Kenneth Williamson wrote:
Gorgie District Pipe Band
"This photo of Gorgie District Pipe Band, 1925, appears to double up as some kind of raffle ticket for a watch."
Kenneth Williamson, Silverknowes, Edinburgh, 3 March 2013
The Photo
Is that Cox's Glue works or some other industrial building at Gorgie with the tall chimney in the background of this photo?
Peter Stubbs: August 25, 2013