Hermitage Park
Primary School
Qualifying Dance Class - 1959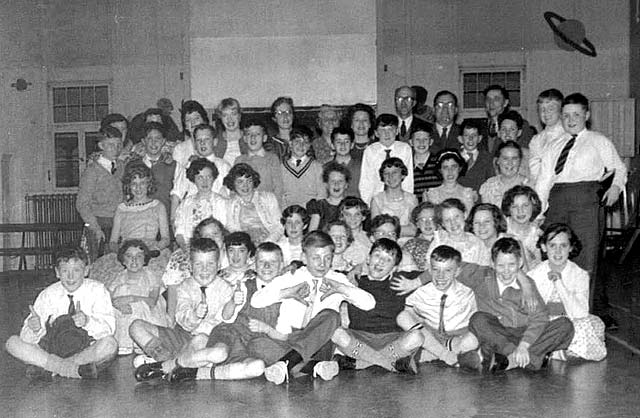 © Reproduced with acknowledgement Murial Janet Adam. Photographer not known. It was one of the teachers at the school.
Hermitage Park Primary School
Thank you to Muriel Janet Adam, née Fairley, for allowing me to reproduce this photograph of her school Qualifying Dance class taken in 1959. Janet attended the school from 1953 to 1959.
Thank you, Muriel, for also providing the names of most of the pupils and teachers in this photo.
Muriel Janet Adam (née Farley), Juniper Green, Edinburgh: March 19 + 20 +21, 2010
Hermitage Park School

c.1940

Names and districts where the pupils lived: left to right in each row.

Front Row

2nd Row
3rd Row

4ht Row

Back Row

TEACHERS

1
Tom
Carberry
Wilma
Tumblety
twin
Isobel
Claridge
Robert
Trench
?
2
Raymond
Walker
Martha
Walker
Margaret
Ross
Lawrence
Barnet
?
3
Billy
Tumblety
twin
Gwyneth
Hynds
Mary
Mein
Finlay
Samuel
?
4

?

Jane
Elliott

Norma Morrison

?
[Art Teacher]
5

?

?

Eleanor Paterson

Norman Hodge
Miss Beattie
6

Alan Blue

Deborah Pennalighan

Mary
Baird
Gordon
Leslie
Miss Todd
7
Duncan
?
Elizabeth
Webster
Cecelia
?
?
McEwan
Mr Chisholm
8
Lesley
Walton
Muriel
Fairley
John
Miochan
?
Mr Guthrie
9
Alan
Blue
Isabella
Rae
Roy
Turnbull
Mr Selcraig
janitor
10
Duncan
?
Carol
Purves
James
Ross
11
Lesley
Walton
Ray
Heeps
William
MacDonald

With acknowledgement to Muriel Janet Adam, for providing all the names above