Bill & Jean Kernan
and Family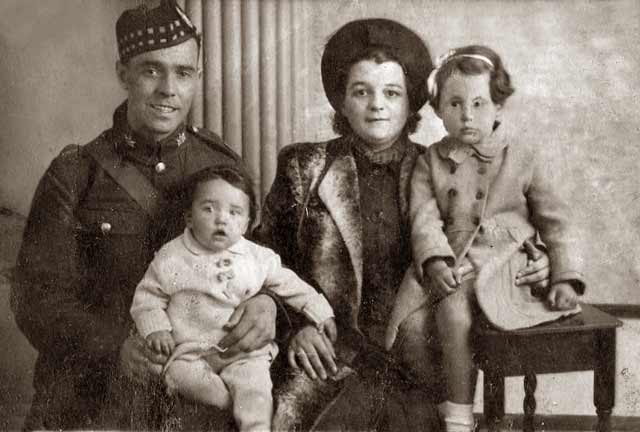 © Reproduced with acknowledgement to Kerry Alexander, Gracemount, Edinburgh
Bill Kernan and Family
Thank you to Kerry Alexander, Gracemount, Edinburgh for allowing me to reproduce this photo.
Kerry has left a message in the 'Dumbiedykes - Searching for People' section of the web site. She's hoping to trace people who knew members of her Kernan family who lived in Dumbiedykes then moved to the Inch, Edinburgh.
Kerry writes:
The Kernan Family
"My granddad was Bobby Kernan and my granny was Agnes Kernan (Dickson).
My gran always talked about Arthur Street. My dad lived in Richmond Street. The family ended up in the Inch."
Kerry Alexander, Gracemount, Edinburgh: January 14, 2008
The Photo
"The photo above is of Bill Kernan and his wife, Jean from Granton. The oldest child in the photo is Margo. My mum remembers the family. She was Margo's bridesmaid.
Please also see the names in 'Reply 1' below. - Peter Stubbs
There were three brothers in the family. The oldest was Bill (in the photo). The others were Bobby (my grandad) and Bernard (known as Ben).
'Bill and Ben the Kernan men' (ha ha). Sorry, I find that funny."
Please click on the thumbnail image in 'Reply 2' below to see a photograph of Bill & Ben, taken around 1912. - Peter Stubbs
Kerry Alexander, Gracemount, Edinburgh: January 20, 2008
Reply 1
Ian Thomson, New South Wales, Australia wrote:
"You could have blown me over when I looked at 'What's New?' and saw the Kernan photo. That's my wife's family.
Just to get the facts right here goes:
- The photo that we have was taken in 1940
- Betty, aged five, my wife, is on right.
- Margo, aged one, is on the left
- Bill and Jean Kernan are Mum and Dad
- There were, in fact 4 brothers and two sisters in the family. In order of age, eldest first, they were:
BOYS: Ben, Bill, Bobby, Johnny
GIRLS: Rose, Winney
We would like to hear from Kerry Alexander. She would be betty's cousin's daughter. Maybe I could forward some pics of the family."
Ian Thomson, New South Wales, Australia: February 13, 2008.
I've passed on Kerry Alexander's contact details to Ian Thomson.
Ian has also sent me this photo that includes his wife, Betty Kernan. It is a class photograph from Royston Primary School, taken in 1946:
- Peter Stubbs: February 16, 2007
Reply 2
Ian Thomson, New South Wales, Australia sent a further Message
Granny Kernan with Bill & Ben
"Here is a photograph of Granny Kernan, maiden name Rose Mulligan, with Bill Kernan (on the left) and Ben, the oldest (on the right). They lived in the South Side. Granny Rose lived into her 90s.
It's a postcard from Alex Roberts' studio at Piershill, Edinburgh. I don't know the year, but Bill looks to be aged about three. He was born in 1909, so maybe the photo was taken in 1912."
Ian Thomson, New South Wales, Australia: February 18, 2008.
Reply 3
Thank you to Bernard (Benny) Kernan, aged 77, for sending more details of the Kernan family.
Benny wrote:
Kernan Family Photos
"One photo is of Bobby, Ben and Rosie.
The other photo is of Willy and Jean."
Benny Kernan: July 1, 2008.
Unfortunately, I've not been able to discover which these two photos are that Benny refers to. However Benny gave more family details.
Benny wrote
Kernan Family
The family was:
- Granny Kernan.
- Bobby ( - my dad. He kept pigeons and worked in a sweetie factory a the end of Grove Street)
- Rosie ( - my Aunt. She was a firm person who had a hard life bringing up the family. I remember when she was very old my dad used to get treated like a wee boy and get told off!!!!!! )
- Johnny (He moved to Glasgow, I don't know when.)
- Ben
- Willy (Bill)
- Winnie
The family stayed in West Richmond Street, then in a top flat at East(?) Adam Street with a shared toilet and sink, Bobby and Agnes in one flat, Rosie next door..
My Grandad
I don't know when Bobby's dad died. It must have been early. I think he had a handsome cab stance at the old infirmary.
Benny Kernan: July 1, 2008.