Links to a few pages on EdinPhoto web site
Lady Haig's
Poppy Factory
65 Canongate, Edinburgh
Ten workers and wreaths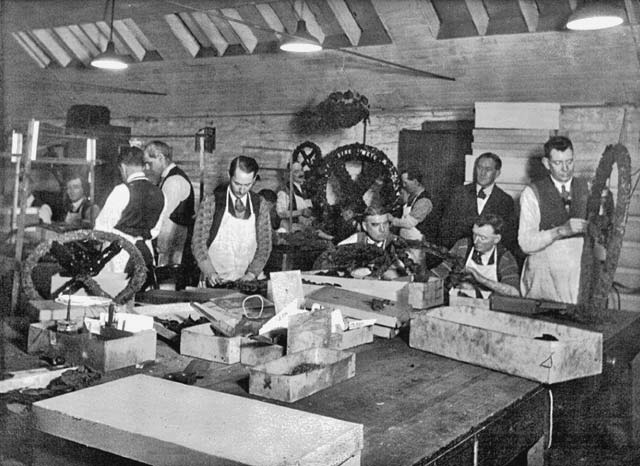 © Reproduced with acknowledgement to Betty Hepburn (née Boland), Waikanae, Kapiti Coast, New Zealand
Lady Haig's Poppy Factory
Old Photos
Thank you to Betty Hepburn for allowing me to reproduce this photo of workers from the Lady Haig Poppy Factory, 65 Canongate Edinburgh. Betty's Granddad used to work at this factory. It opened in March 1926.
This is one of three photos of the workers at the factory that Betty sent to me. Here are all three. The third one was published in the Edinburgh newspaper, 'The Evening Dispatch'. When was it published? The other two may have been published there as well.
Acknowledgement: Betty Hepburn (née Boland), Waikanae, Kapiti Coast, New Zealand: Nov. 10, 2011
Questions
Workers
The worker 2nd from the right in this photo is William Benham, grandfather of Betty Hepburn who sent me these photos. Do you recognise either of the other workers in this photo?
When might the photo have been taken?
Acknowledgement: Betty Hepburn (née Boland), Waikanae, Kapiti Coast, New Zealand: Nov. 10, 2011
__________________

Links to a few pages on EdinPhoto web site