Peffermill School Football Team - 1959-60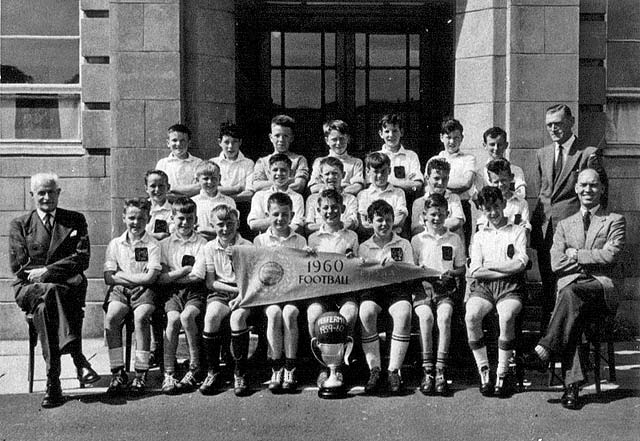 © Reproduced with acknowledgement to Andy Tulloch Photographer not known
Peffermill School
The Photograph
Thank you to Andy Tulloch for allowing me to reproduce this photograph of Peffermill School football team, taken in 1960.
Andy tells me that the photo was given to him by A Wanstall (one of the players in the team) after it was saved from being thrown out shortly before the school closed.
The Team
This team won the Craigmillar Community Cup (Senior) Portobello League Pennant in 1959-60. The Pennant can be seen, held by some of the team in the centre of this photo.
The players and teachers are (left to right):
Back Row

Centre Row

Front Row

R Hall

G Smith

A McCall

S McFarlane

A Wanstall

A Jamieson

D Sinclair

Mr J Wilson

P Thomson

W Ford

D Lochen

J McCartney

I Porter

A Dobson

A Tulloch

Mr A Lyle BSc

A Brown

G Porter

S Grant

P McGovern

L Smith

F Seigel

D Wright

D Patterson

Mr J Conway MA
Acknowledgement: Andy Tulloch, Craigmillar, Edinburgh
Football Teams
Here are two other photos that Roy has provided. They are of football teams at Peffermill School (1948-48) and Niddrie Marischal School (1951-52). Roy was the goalie in both teams.