Big Band
at the
Palais de Dance
Fountainbridge, Edinburgh
Palais de Dance, Fountainbridge - 1963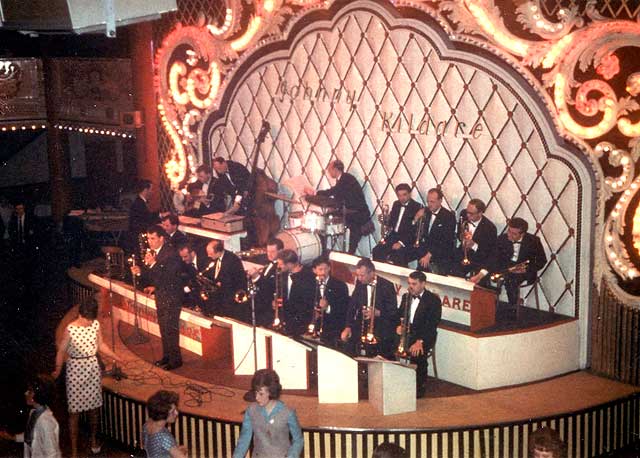 © Reproduced with acknowledgement to Paul Sutherland
Recollections
1.
Paul Sutherland
Glasgow
Thank you to Paul Sutherland for sending me this photograph of a band on stage at the Palais de Dance.
Paul's dad was a double bassist who worked at the Palais a lot in various groups and bands, as well as at the bandstand in Princes Street Gardens.
Pete Seaton Orchestra
"My dad has now updated me with the names and details of the band members. of the orchestra. Despite the 'Johnny Kildare' name being on the stage and behind the band, this was the Pete Seaton Orchestra.
The band was put together by Pete Seaton, a well-known figure on the Edinburgh music scene who owned a music shop in Hope Park Terrace, Edinburgh, from the late-1950s through to the early-1980s."
Pete Seaton
"Pete was/is a highly-talented multi-instrumentalist; he could play almost any instrument. Through and beyond the big band era, he produced a suitcase full of big band arrangements which he used to rehearse with a scratch band in the Doric Hotel in Minto Street, Newington in the early 1970s."
Names
"This shot shows a number of the big band regulars. Among them are:
Pete Seaton Orchestra

Jimmy Leslie

singer

Pete Seaton

in front of the guitarist

Ian Reid

drums

Charlie Alexander

guitar

John Sutherland

bass

George Johnny Smith

1st trumpet)

Tom Gould

2nd trumpet

Jimmy Robertson

2nd 3rd trumpet

Billy ??? Harrison

4th trumpet

Ross Burns

Baritone Sax

Jimmy Shortreed

Lead Alto Sax

Jimmy Burns

1st tenor sax

Dougie Crombie
Colin Campbell

2nd tenor sax

Harry Cadger

3rd 1st trombone

Alex McKie

2nd trombone

???

3rd trombone

???

4th trombone.

MAROON: from Paul Sutherland and his Dad. Jul 28 + Sep 20, 2008

GREEN: from Colin Campbell, a member of the orchestra. Jan 19, 2011

BLUE: Leanne Stewart, Fife, Scotland writing on behalf of Tom Slight who works beside him, the brother of Billy Harrison (above). Sep 6, 2017
These were all semi-pro musicians, meaning they had day jobs which they mostly hated and regarded music as a blissful release: 'Playing' was what they were put here for!"
Paul Sutherland, Glasgow
Recollections
2.
Sharon Shepherd
Dollar, Clackmannanshire, Scotland
Thank you to Sharon Shepherd who wrote:
Pete Seton Band
"My father, Jimmy Robertson, used to be 2nd Trumpeter in the Pete Seaton band in the late-1950s and 1960s. He is the one wearing glasses, third trumpeter from the left on the back row of this photo.
I've also heard that The Pete Seaton band recorded a music track
Sharon added:
Question
"Does anybody have any photos of the band? Your help would be very much appreciated."
Sharon Shepherd, Dollar, Clackmannanshire, Scotland: March 10, 2009
Answer?
If you'd like to reply to Sharon's question above, please email me, then I'll pass on your message to her.
Thank you. - Peter Stubbs
Recollections
3.
Maz
Falkirk, Stirlingshire, Scotland
I've been asked who Johnny Kildare was, whose name appears on the stage behind the band in this photo:
Thank you to Maz who replied:
Johnny Kildare
"Eddie Conners was my brother-in-law's Best Man in 1960, and he went by the name of Johnny Kildare."
Maz, Falkirk, Stirlingshire, Scotland: 17 September 2017