Photograph from World War I
Royal Scots
'Dandy Ninth'
Ronnie Elder's Father and Grandfather
Around 1914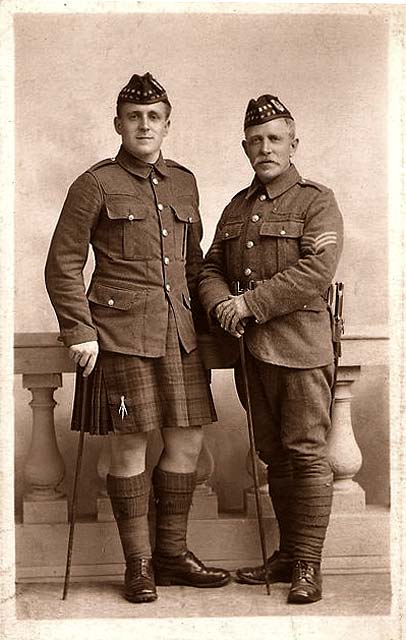 © Reproduced with acknowledgement to Ronnie Elder, Kandy, Sri Lanka
Royal Scots 'Dandy Ninth'
Thank you to Ronnie Elder for sending me this photo
Ronnie wrote:
Around 1914
"Here is a photo of my Father and Grandfather. It may have been taken in Edinburgh, possibly around 1914."
Royal Scots
"My father volunteered for service with the Territorial Army, 9th Battalion (Highlanders) Royal Scots, East Claremont Street, prior to the Great War. The Battalion mustered for regular service on the outbreak of hostilities, and eventually served at the Front.
I believe my Grandfather was not a Territorial but, nevertheless, volunteered, and was recruited into one of the the Royal Scots Service Battalions. He also served at the Front, and would have been around 50 years in age."
Father's Uniform
"My Father is wearing the Hunting Stuart kilt of the 'Dandy Ninth' but showing a fancy 'claw' pin instead of the regulation 'safety- type' pin. I've no idea why he is wearing neither the normal cutaway jacket required for the kilt nor his leather sporran."
Grandfather's Uniform
"My Grandfather is wearing the standard 'Service Dress' of the period - Glengarry, cutaway jacket, leather belt, (note the side arm) laced britches, puttees, and boots. He may have been a member of the battalion regimental company, hence the sergeant stripes. I think you will agree, my Grandfather looks every inch 'A Soldier of the Queen' as the song goes."
Ronnie Elder: October 9, 2010