Links to a few pages on EdinPhoto web site
Edinburgh
Sparta
Amateur Boxing Club
Weight Training Champions - 1948-49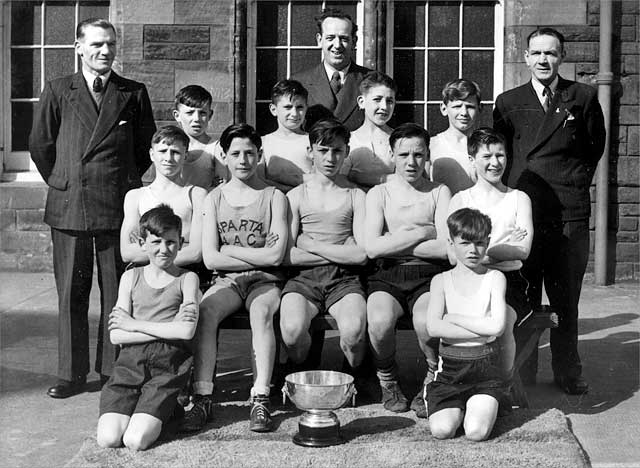 © Reproduced with acknowledgement to Dave McKinlay, New Zealand
Sparta Amateur Boxing Club
Thank you to Dave McKinlay, now living in New Zealand, for sending me the photograph above, and for providing many of the names of the club members in this photo. Dave and Billy McKinlay are in the photo.
Dave writes:
Weight Training Champions
"This photograph is of the individual Weight Club Champions for the year, 1948-49.
I can't remember what the cup was called, but Billy held it for a year. My memory tells me that it was presented to the club's best 'all rounder' for general training. i.e. skipping, bag and ball work and exercises.
Dave also sends this message to Johnny Houston, the boy wearing the 'Sparta' top in this photograph:
Cycling
"To Johnny Houston, Hank and his wife, née Shaw: - Best regards to you and your families. I hope you are all well and keeping good health as we McKinlays are.
In the mid 1950s, I was doing a lot of road cycling and recall the 2 Shaws (boy & girl) being part of the group of 14 of us that did a 2 week tour of the Scottish Highlands. I think the boy's name was Ian Shaw.
We were descending a steep hill with sharp hairpin bends in the Loch Tummel area when Ian lost control and ran off the road and ended up in hospital. I think Willie Shaw (the man standing on the left in this photo) was their father."
Dave McKinlay, New Zealand: August 24, 2009
Sparta Amateur Boxing Club

Individual Weight Club Champions

1948-49

From
left

1st Row
(front)

2nd Row

3rd Row

4th Row
(back)

1

?

?

Jimmy Malcolm
Mr Willie Shaw
2

?

Johnny Houston
?
Mr Henderson
3
Billy McKinlay

John Carson

Mr George Shaw
4
Dave McKinlay

Colin Henderson

5

?

Names in black provided by: Dave McKinlay, New Zealand: August 24, 2009

Names in green provided by John Carson, Edinburgh: February 22, 2013.
__________________

Links to a few pages on EdinPhoto web site