St Francis' School
Niddrie Mains Road, Craigmillar
c.1961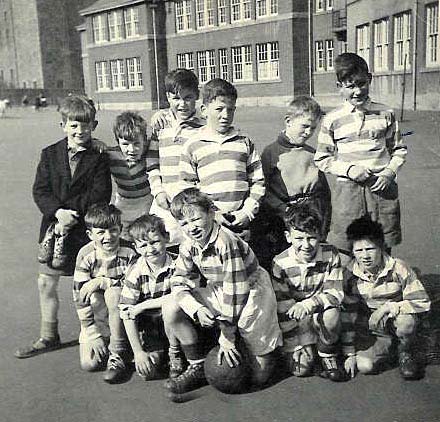 © Reproduced with acknowledgement to Eric Gold, South London
and Robert Stoddart, Perth, Western Australia [photographer not known]
Recollections
1.
Eric Gold
East London
Thank you to Eric Gold, formerly of Dumbiedykes and now living in East End London, for the photograph above.
Eric wrote:
My Classmates
"I've struck gold dust. My classmate, Robert Stoddart, who has lived in Perth Australia since 1970 has sent me this photo, taken when he was at St Francis' School in Craigmillar.
Robert was nicknamed 'Stosh' in Craigmillar, but 'Shug' at St Anthony's
In the photo are three of my classmates at Strangs, the annex of St Anthony's school.
FAR LEFT: Robert Stoddart
FAR RIGHT: John Brannon
MIDDLE: Frankie Armstrong"
Eric added:
"I beleive this photo would have been taken in 1958 when we were both 10 and I was at St Patrick's and Shug was at St Francis' school."
However, Johnny Stanton (below) believes that the photo would have been taken a little later.
Eric Gold, East End, London: April 13 + 15, 2007
Who else is in the Photo?
Do you recognise yourself or anybody else in the photo? If so, please e-mail me so that I can pass on the news to Eric, then he can tell Robert Stoddart.
Thank you. - Peter Stubbs
Recollections
2.
Johnni Stanton
Peffermill, Edinburgh
Thank you to Johnni Stanton, Craigmillar, Edinburgh who replied:
Billy Stanton
"The person on the left in this photo is in fact, my brother, Billy Stanton, who was at St Francis from 1958 to 1965.
I've pointed out this photo to several people without saying who's who, and they all pointed at the kid on the far left and exclaimed: ''That's your wee brother!' He's very recognisable, and he recalls this picture too!
My brother was born in 1953, so I judge the photo to have been taken around 1961."
Johnni Stanton, Peffermill, Edinburgh: August 23, 2008
Recollections
3.
Eric Gold
East London
After hearing about Johnnie Stanton's comments above, Eric Gold wrote:
Who's in the Photo?
"The photo of St Frances school was sent to me by my mate called Rab Stoddart (Stosh) a classmate of mine at St Anthony's.
Johnnie Stanton is right. I got the positions wrong. The guys in the photo were:
FAR RIGHT, FRONT ROW: John Brannon
BACK ROW, MIDDLE: Frankie Armstrong
WHERE? (I'll ask him): Robert Stoddart
I'd guess that Robert Stoddart (Stosh) may have been the wee laddie, 2nd from left on the back row, next to Billy Stanton but that is a guess as I was not in that class, but was with them at St Anthony's in Leith, our secondary school. I was at St Anthony's from 1960 to 1963."
Eric Gold, East End, London: April 13 + 15, 2007
Recollections

4.

Johnni Stanton

Peffermill, Edinburgh

Thank you to Johnni Stanton, Craigmillar, Edinburgh who wrote again telling me that he had found this picture on several web sites, the latest of which names all eleven footballers in the picture:

They are, left to right:

Back Row

Front Row

1.

Billy Stanton

Joe MacNamara

2.

Davie Heron

Billy Knox

3.

Terry Paine

Brian O'Neill

4.

Tom Farmer

James McGrory

5.

Brian Kelly

John Brannon

6.

Robert Stoddart

Johnni Stanton, Peffermill, Edinburgh: August 23, 2008