Links to a few pages on EdinPhoto web site
Tynecastle
Secondary School
1951
Class 2C1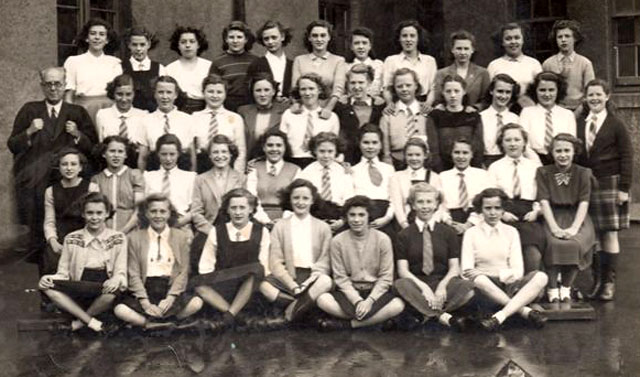 © Reproduced with acknowledgement Ian C Purves, Waterdown, Ontario, Canada
Comments
1.
Ian Purves
and
Marion Purves (née Fraser)
Waterdown, Ontario, Canada
Thank you to Ian C Purves who for sending me the photograph above, together with these comments from his wife Marion, the third girl from the right-hand side in the second row from the front.
Marion wrote:
Class 2C1
"This photo shows Class 2C1 (2nd Year Commercial Class) in 1951. These are some of the pupils' names that I remember:
- Elizabeth Gaiger
- Betty Thompson
- Violet Brash.
On the left is the headmaster of that era, Mr Paul, duly dressed as always."
Ian C Purves + Marion Purves (née Fraser), Waterdown, Ontario, Canada: April 16, 2013
__________________

Links to a few pages on EdinPhoto web site