Links to a few pages on EdinPhoto web site
21 Greenside Row
Behind the Omni Centre and beneath the western slopes of Calton Hill
1940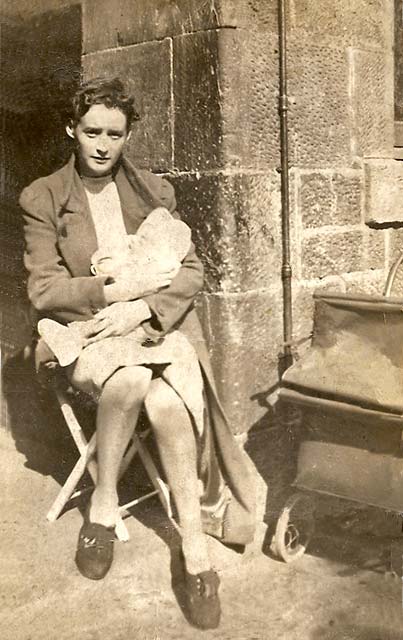 © Reproduced with acknowledgement to
Sylvia Wilson, (née Murray), Northamptonshire, England.
21 Greenside Row
1940
Outside No 21
Thank you to Sylvia Wilson (née Murray) now living in Northamptonshire, England for allowing me to reproduce this photograph of her mother Euphemia ( Effie ) Murray, née Bowers, and her baby sister, taken outside their home at 21 Greenside Row in 1940.
Sylvia's mother is still alive, now in her 90th year, but sadly Sylvia's baby sister has passed on.
Question
Sylvia Wilson and her mother would like to see more photos of the tenements in Greenside Row. If you know of any, please email me, then I'll pass on the news to Sylvia.
Thank you. - Peter Stubbs: December 18, 2008
Acknowledgement: Sylvia Wilson (née Murray), Northamptonshire, England: December 16+18, 2008
__________________

Links to a few pages on EdinPhoto web site