Craigmillar
Looking to the north from the back green behind
2 Harewood Drive
with views of the backs of the houses in
Niddrie Mains Drive and Wauchope Place
David Bain in his Pram - 1948
AHEAD: The backs of some of the houses in Niddrie Mains Drive
LEFT: The clothes poles in the back green behind the houses in Harewood Drive
TOP-RIGHT: The backs of some of the houses in Wauchope Place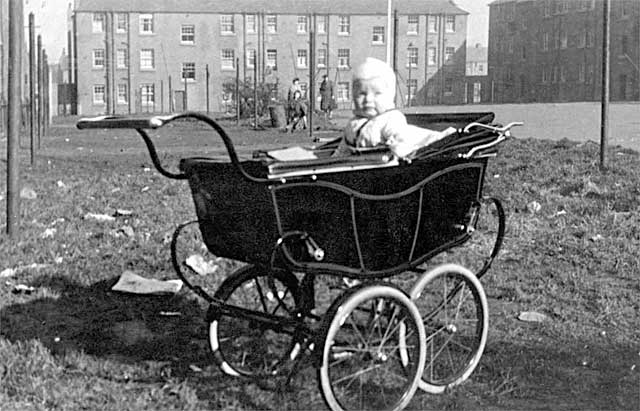 © Reproduced with acknowledgement to David Bain, Rotherham South Yorkshire, England
Looking to the north from the back green behind
2 Harewood Drive
Thank you to David Bain, the baby in this pram in 1948, for allowing me to reproduce this photo.
David wrote:
Look at My Posh Pram!
"This photo was taken looking to the north from the back green behind 2 Harewood Drive.
Going by my expression, I was then, as now, a cheery wee soul!"
David Bain, Rotherham South Yorkshire, England: November 20, 2009