Bus, Tram & Train
Journeys
in Edinburgh
Recollections

1.

Bob Henderson
Burdiehouse, Edinburgh

Tram

Tram and Bus

Tram and Walk

2.

David Barrie
Adelaide, South Australia

Leith to Corstorphine - Aged 5

3.

Malcolm Acton
Liverpool, Lancashire, England

Eastfield Terminus

4.

Bob Sinclair
Queensland, Australia

Trams

5.

Bob Sinclair
Queensland, Australia

No 16 Bus

- Annie: Question

6.

Ian Mycko
Gilmerton, Edinburgh

No 16 Bus

- Annie: Answer

6A.

Frank Ferri
Newhaven, Edinburgh

No 16 Bus

- Annie: Answer

6B.

Steven Oliver
Duns, Borders, Scotland

No 16 Bus

- Annie: Answer

6C.

Dave Walker
Edinburgh

No 16 Bus

- Annie: Answer

6D.

William Boyle
Dover, Kent, England

No 16 Bus

- Annie: Answer

7.

Betty Wallace (née Baxter)
Burdiehouse, Edinburgh

Trams from Leith

8.

Ian M Malcolm
St Andrews, Fife

Leith Tram - Unpaid Fare

9.

Mal Acton
Liverpool, Lancashire, England

Corporation Buses

Day Tickets

10.

Mal Acton
Liverpool, Lancashire, England

Trams

- Lost Brother

- Found Brother

11.

Susan Allan
Slateford, Edinburgh

1956

- The Last Tram

12.

Jim Vandepeear
York, Yorkshire, England

Tram Journeys

- Journey to Work

- Pitching Motion

- Sound Effects

- Other Tram Routes

Train Journeys

- Aberdour

- North Berwick

13.

Gus Coutts
Duddingston, Edinburgh

Scholars' Permits

- 1946-58

- Two Shillings

- Half-Price Travel

- Transfers

- The School Run

- Age 14
Recollections
1.
Bob Henderson
Burdiehouse, Edinburgh
Thank you to Bob Henderson, Burdiehouse, Edinburgh for sending his memories of travelling in Edinburgh.
Bob wrote:
Tram
"As a youngster in Arthur Street, Dumbiedykes, I remember getting the No 7 or 37 tram to Libby Dams. It seemed like going to the other side of the world."
Tram and Bus
"Then we moved to Burdiehouse and for three whole years I travelled on the same tramcars from the Liberton terminus to Holy Cross Academy in Ferry road. What a great journey it was with the No 18 bus given the menial task of ferrying us back and forth between Burdiehouse and the top of Libby Brae."
Train and Walk
"It was an even greater adventure to get the train to Davidson's Mains and then walk down Lauriston Farm road to Cramond.
That was a real day out with my mother, her four sisters, her brother and all their spouses and children, all laden with enough provisions to feed a battalion of squaddies for the day.
Whilst the ladies got the soup pot and the tatties and of course a brew of tea on, the men folk and children, given a favourable tide, would be off to Cramond Island to collect buckies and mussels. These too would be cooked on the beach. There was always plenty of driftwood at Cramond in those days.
That was only one possible excursion the same train would take you to within easy walking distance of almost anywhere in the city. What a wonderland Edinburgh was in those days."
Bob Henderson, Burdiehouse, Edinburgh: December 5, 2007
NOTES
1. Bob lived in Arthur Street until about the age of 9 in 1948.
2. Bob started his first employment as a slater's apprentice, then he worked for Baxter Butchers, Liberton in 1954.
3. Edinburgh trams continued to operate until 1956.
4. Libby = Liberton.
- Peter Stubbs: December 5, 2007
Recollections
2.
David Barrie
Adelaide, South Australia
Thank you to David Barrie who wrote:
Leith to Corstorphine - aged 5
"I can remember walking from Fort Street Primary School to the foot of Easter Road to catch a number one single-decker bus from the terminus there, under the bridge, to the terminus at Corstorphine. In the summer it continued to Cramond.
I made this journey every Friday and my Dad would come on a Sunday to my grannies to bring me back home again. And me only five years old.
Oh! These were fine old times when we allowed the wains to do this without fear, and with a three penny bit tied in the corner of my hankie by my Dad."
David Barrie, Adelaide, South Australia: Message in Guest Book, October 16, 2008.
Recollections
3.
Malcolm Acton
Liverpool, Lancashire, England
Thank you to Malcolm Acton who wrote:
Eastfield Terminus
"The Eastfield terminus was at the junction of Milton Rd East and Musselburgh Rd. Any further and the buses would have been into SMT territory!
I especially remember the 44 route because one of my Aunts lived at Juniper Green where the 44, 45 and 46 terminated. It was a great journey and Edinburgh Corporation sold an 'All-day Ticket' I think it cost about 2/- (10p) but I could be wrong on that.
Malcolm Acton, Liverpool, Lancashire, England: November 16, 2009
Lothian Buses now have routes extending far beyond Eastfield into the old SMT territory in East Lothian.
There is still an Eastfield Terminus, but it is a little further west than the junction that you mention. Here is a photo taken at the Eastfield terminus in 1971:
Recollections
4.
Bob Sinclair
Queensland, Australia
Bob Sinclair wrote:
Trams
"When we were young and sometimes short of even a penny, we used to get on the tram and head upstairs. On the top deck at the front of the tram was a small section, which we called the round house. It had a sliding door which could be shut. So we used to go in there and lock the door if it had a snib.
We sat there casually until the conductor made his way to the door, then ran down the drivers-end stair and either off the tram or tried to re-enter the downstairs section. The conductor used to chase us for a while then realised he was missing out on other fares, and gave up.
What you did when you had no money!"
Bob Sinclair, Queensland, Australia: December 20, 2009
Recollections
5.
Bob Sinclair
Queensland, Australia
Bob Sinclair wrote:
No 16 Bus - Annie
"Annie was a conductress on the No 16 bus and we got to know her when we travelled to and from the dancing. She, I think, was ex-Land Army. She had a vivacious manner and could give and take chat from the travellers.
I've known her to stop the bus until a difficult customer got off, and also, if too many people piled on board, the same procedure was gone through until the number standing downstairs was just right."
Question
"Does anybody else remember her or know her second name?"
Bob Sinclair, Queensland, Australia: January 17, 2010
Recollections
6.
Ian Mycko
Gilmerton, Edinburgh
Just a few hours after I added Bob's question about Annie (5 above) to the web site, I received a reply from Ian Mycko.
Ian wrote:
No 16 Bus - Annie
Answer
"The conductress Bob Sinclair speaks about is Annie Boyle. My dad was a driver in Leith garage and often had Annie as his conductress. She was a lovely women but ruled with a rod of iron.
I'm not sure, but I heard that she had passed away a few years ago."
Ian Mycko, Gilmerton, Edinburgh: January 19, 2009
Recollections
6A.
Frank Ferri
Newhaven, Edinburgh
Thank you to Frank Ferri for coming up with the same name as Ian above.
Frank wrote:
"Someone was asking about the jolly wee lady, quite a character, that worked as a conductress on No 16 tram/bus always with a cheery remark to the passengers. She gave a running commentary, etc.
Her name was Annie Boyle. She lived at Annfield Newhaven"
Frank Ferri, Newhaven, Edinburgh: March 2, 2010
Recollections
6B.
Steven Oliver
Duns, Borders, Scotland
Thank you to Steven Oliver who replied:
"I've been reading the reminisces about Annie Boyle on the site. What you may not know is that she was the last conductress in service with LRT, retiring on 25th October 1980 after the last crew-operated run with Titan 665 on service 1.
Edinburgh Transport Group decided to recreate the last run on the 25th anniversary in 2005 There were thoughts of having Annie along as a guest of honour, but unfortunately, we found out that she had died some time previously."
Steven Oliver, Duns, Borders, Scotland: March 6, 2010
Recollections
6C.
Dave Walker
Edinburgh
Thank you to Edinburgh bus driver, Dave Walker, who wrote:
"It was so good to read the people's recollections of Leith and especially the recollections of Annie Boyle. She was indeed from Annfield, Newhaven
I was double-shifted with Annie on the 16 route for close to eighteen months, and she did indeed look after passengers, good or bad.
When we all changed over to decimalisation, I remember her holding classes on the bus while we were on service, explaining, mainly to the older folks, how it would all work - new coins, counting, etc.
Leith Garage Picnics were great days out. Our kids always tried to get onto Annie's bus. They, and the other kids, had a song they would sing about her, once we got moving. It's a song which they can still sing today. They are now in their 40s."
Dave Walker, Edinburgh: August 26, 2012
Recollections
6D.
Billy Boyle
Dover, Kent, England
Thank you to Billy Boyle, who wrote:
"Annie Boyle, conductress on the No.16 bus, was my mother. She had been in the Red Cross for ,most of the time that she was with Edinburgh Corporation buses. She also looked after the Old Age Pensioners, using her money to give them outings and parties.
"Everyone knew her, and she knew every street where the bus went, shouting each and every stop on the route, and stopping the bus at 5.30am to get me up for my morning milk round."
"My mother got a Medal from the Queen for her services, which was, sadly lost when her house was cleared. She spent a few years n a Nursing Home and died of uncontrollable diabetes.
She was a character, well known by many of the sailors and ladies of Leith. I've spent most of my life at sea. My mother and I have had some us and downs, but I do miss her."
Billy Boyle, Dover, Kent, England: October 20, 2015
Recollections
7.
Betty Wallace (née Baxter)
Hamilton, Ontario, Canada
Thank you to Betty Wallace (née Baxter) who wrote:
My husband, Jim, was a Leither from Assembly Street. We were remembering when we could get from Bernard Stret to Pilrig for one penny on the tram, but I would stay on to Shrubhill and risk the fury of the conductor.
Betty Wallace (née Baxter), Hamilton, Ontario, Canada: January 18, 2010
Recollections
8.
Ian M Malcolm
St Andrews, Fife, Scotland
Thank you to Ian M Malcolm for telling me about an incident involving George Mein, one of the students that he studied with at Leith Nautical College in 1947-48.
Ian wrote:
Leith Tram
Unpaid Fare
"George Mein was a blond-haired, self-important, type who was returning to the Union Castle Line. When on a crowded tram travelling down Leith Street one lunch time, his fare was not collected.
When he got off at the foot of the Walk, the conductor leaned out and shouted, 'Hold on to your money, I know you haven't paid your fare'.
This so incensed George that he called at the transport office to pay the penny and complain of the man's insolence, explaining that even the tram's platform had been so crowded that he was unable to reach the box for uncollected fares.
The office then sent him a receipt of about a foot in length, and the stamp on the envelope was more than the fare!"
Ian M Malcolm: St Andrews, Fife, Scotland: January 24, 2010
Recollections
9.
Mal Acton
Liverpool, Lancashire, England
Thank you to Mal Acton who wrote:
Corporation Buses
"Who remembers the corporation buses with the doors at the back and on the right hand side by the conductors hidey-hole?"
All Day Tickets
"There was a list of all the bus routes with every fare stage and the fares for however many stages you travelled."
In the late-1950s or erly-1960s, I think there was an 'All Day Unlimited Travel' ticket for about 3/- (15p!).
An aunt lived just past Juniper Green. I would get one of those tickets and catch the 44 bus to Eastfield, then go all over the city for the whole day. I really got my value out of those tickets!
Great days indeed!!"
Mal Acton, Liverpool, Lancashire, England: January 4, 2013
Recollections
10.
Mal Acton
Liverpool, Lancashire, England
Thank you to Mal for writing again with more memories of transport in Edinburgh,
Mal wrote:
Trams
Lost Brother
"It was about 1955 and I was in Edinburgh on holiday with my parents, sister (12) and brother (11). We were staying with my late Aunt who lived in Belford Road.
One day, we were walking down Princes Street toward the Scott Monument and we suddenly noticed my brother had vanished."
Found Brother
"We searched for at least an hour, going up and down Princes Street looking for him, then decided to have break at The Mound, when Dad saw him him on a No.23 tram!
It turned out that he had jumped on a 23 tram and and just sat next to people so that when the conductor came for the fares, it looked as if he had been paid for!
Quite how he got to and from Granton Road Station without paying, and without the conductor ever noticing him, I'll never know!"
Mal Acton, Liverpool, Lancashire, England: January 4, 2013
Recollections
11.
Susan Allan
Slateford, Edinburgh
Thank you to Susan Allan who wrote:
1956
The Last Tram
"Does anyone remember the last tram to run in Edinburgh city centre in 1956? My partner's mum, Elizabeth (Bunty) Fraser, was dressed up and going to a dance in an open-top car with a young gentleman.
They found themselves in front of the tram, so waved regally in fun as they passed the crowds. Does anyone remember seeing them, or better still, have a photo of the car?"
Susan Allan, Slateford, Edinburgh: October 16, 2013
Recollections
12.
Jim Vandepeear
York, Yorkshire, England
Thank you to Jim Vandepeear, now living in York, for sending me more of his recollections of growing up in Edinburgh. It's now over seven years since Jim first sent his Edinburgh recollections to me.
Jim told me when he sent his recollections below to me, that it was to be his 80th birthday the following day, and that he had initially started writing his notes as a tale for his granddaughters. I hope that they will now be appreciated by a wider audience.
Jim wrote:
Tram Journeys
"Trams were the normal transport in my schooldays. There were very few cars, lorries were largely horse drawn, and if you had no bike, the tram was better than walking or running."
Journey to Work
"In 1949, I got a job with the new British Railways, and so had new travel arrangements.
- I had a tram ride, early in the morning, from Clerk Street, down Leith Street.
- With its breaks on, the tram went down Leith Walk, past Pilrig, and turned into Great Junction Street then on to Commercial Street.
- At the end of Commercial Street, by the docks, there was the small station where I worked, just where the entrance to the Royal Yacht exhibition is now.
- Some mornings I took another tram which went straight on at the bottom of Leith Walk, and turned left along Commercial Street."
Pitching Motion
"The long tram run down Leith Walk was often without need of stops for passengers. This let the driver build up speed. The and the tram would develop an odd pitching motion, bouncing forward and back on the four wheel chassis. On longer non- stop stretches of tram track, this could be quite alarming, and give rise to fear of the tram tipping forward completely, head over heels.
If one was in one of the small seating cubicles on the top deck, separated from the rest of the seats by a sliding door, the pitching motion developed a definite circular feel to it."
Sound Effects
"I remember the sound effects of Edinburgh trams:
- the scraping hum of the pantograph
- the electric motors
- he screech of wheels on rails going round a bend
- the clank of the warning bell, operated enthusiastically by the driver.
- the slam of seat backs being swung back for the return trip.
- the bell signals
- the whizzing ratchet of the portable ticket machines.
- There was some kind of device, I think, allowing the driver to change the points at a route change without getting out of the his tram. This included another kind of clanking noise. Alternatively, sometimes, the driver got down and inserted a rod into a hole in the road, and turned the points manually.
The minute or so while a tram was without power as the pantograph was swung round was so quiet that it was almost noisier than the racket of a tram in motion."
Other Tram Routes
"The tram section from Newington to Liberton Dams, from the end of Lady Road, was a good place to experience tram pitch and toss. About half way along, a dip in the granite setts under the rails made the tram have a definite lurch and roll to one side. Tram drivers took this part of the route flat out, as there were no tram stops until Liberton Dams."
The fastest tram section that I knew was near Musselburgh Racecourse on the Waterloo Place to Levenhall route. It, too, was taken at speed by drivers, with similar results.
I remember having only two bus journeys while I was at school, the return from my days as an evacuee, and a trip to South Queensferry for a day out."
Train Journeys
"As a family, if we were not walking or having a tram journey, we would travel by train. The trains took us to North Berwick and to Aberdour for wartime holidays.
Aberdour
"Aberdour was for beaches, the Silver Sands, tree climbing in Humbie woods, and fishing for crabs or dabs from the old wooden pier. Even then it had more gaps than pier.
- The trip across the railway bridge was exciting, glimpsing the sea far below, and sometime naval ships at anchor by Rosyth or out towards Inchkeith.
- There were blockships with long gantries sticking out over their bows, I think they must have been for anti- torpedo nets.
- At night, we could watch the searchlights on Inchkeith light up the clouds and give a little light to the street.
- My sister, much older than I, complained of the searchlights being swept along the silver sands to disturb courting couples.
- Aberdour was the escape for Fleet Air Arm personnel, with always a good crowd of men filling the empty street after closing time.
- We were lucky to have the use of a flat in Aberdour. That meant that it was a frequent trip in school holidays."
North Berwick
"North Berwick was a rarer trip, passing the RAF base at Drem. We stared from the train to see any fighter planes.
- Once, our train was 'buzzed' by a plane which flew alongside the track for a minute or so. Exciting times!
- We always had a walk around the North Berwick.
- We took a look at the outdoor swimming pool.
- Eddie McCracken (?), a swimming hero may have been in charge of North Berwick Pool. As a non-swimmer, I never went in to see."
Jim Vandepeear, York, Yorkshire, England: April 2, 2014
Recollections
13.
Gus Coutts
Duddingston, Edinburgh
Gus Coutts wrote:
Scholars' Permits
1946-58
"When I was at school, from 1946 until 1958, Edinburgh Corporation Transport (ECT) had a travel scheme for pupils organised round what was known as a Scholar's Permit."
Two Shillings
"At the beginning of each school year, in September, one proceeded to The Transport Offices in St. James' Square and purchased the Scholar's Permit for the princely sum of 2/- (10p) a Scholar's Permit which was a piece of coloured cardboard about 8cm x 5cm. It covered the complete school year and the colour changed every year."
Half-Price Travel
"This allowed the holder of the permit to travel on 2 buses or trams for the price of a single journey on 1 bus or tram, on presentation of the permit to the conductor on the first vehicle.
The fare was 1d and, as far as I can remember, this never changed during my time at school. The conductor produced a Transfer Ticket on his TIM machine which one retained and presented to the conductor on the 2nd bus or tram. To cancel the ticket the 2nd conductor folded it from end to end and tore of one of the corners at the fold."
Transfers
"The only restriction as to the route taken was that the transfer from 1st to 2nd vehicle had to take place at a specific point - in my case Waverley, which in practice meant any point on Princes Street to the west of Castle Street.
The Transfer Point was entered on the permit at the time of the initial purchase.
Being an inveterate hoarder I still have several of my permits but can currently only find the one for my final year."
The School Run
"If such a scheme were available today, it would help to reduce congestion caused by The School Run. Obviously, the cost of the Permit and the Fare would be a bit more than 2/- and 1d."
Age 14
"As I recall, at that time, one became liable to pay the Adult Fare on reaching the age of 14, meaning that for those over 14 the Permit not only allowed 2 journeys for the price of one but allowed one to pay the Child Fare instead of the Adult fare. I may be wrong about that one - it was a long time ago."
Gus Coutts, Duddingston, Edinburgh: August 4, 2014
Recollections
14.
Gus Coutts
Duddingston, Edinburgh
Thank you to Gus Coutts for letting me see a copy of his Scholar's Permit from 1958 that he refers to above. Here it is:
Scholars' Permit
1957-58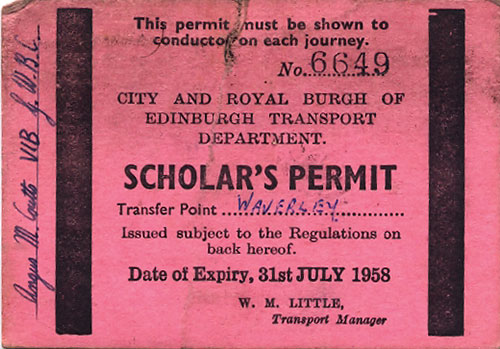 © Reproduced with acknowledgement to Gus Coutts, Duddingston, Edinburgh: August 5, 2014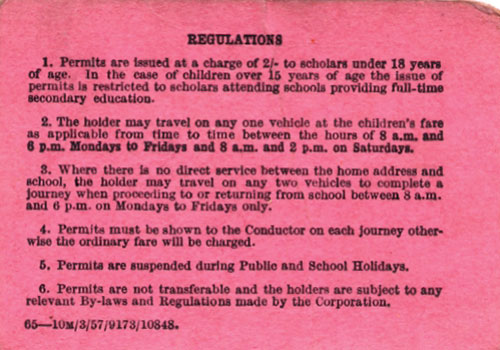 © Reproduced with acknowledgement to Gus Coutts, Duddingston, Edinburgh: August 5, 2014