Studio Dates
According to the listings in the Edinburgh & Leith Post Office Directory and other trade directories from the late 19th century, Charles Bain was a photographer with a studio at 124 St Stephen Street, Stockbridge, about a mile to the North of Princes Street, from 1894 to 1896.
However, the Cabinet Print and message below received from John Gordon suggests that C G Bain was, in fact, in business as a photographer from that address for a longer period - at least from 1890 to 1896. Thank you, John, for providing the photo and comments below.
The Gordon Family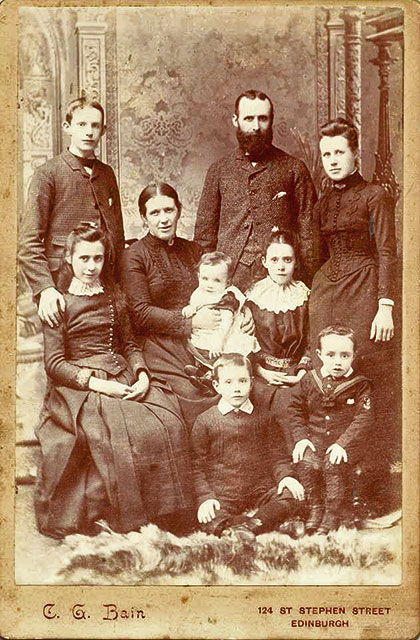 © with acknowledgement to John Gordon, Easdale, Oban, Argyll & Bute, Scotland
John wrote:
"This photo is of my great grandparents, Alexander and Dolina Gordon, and their family. I've managed to identify all the children. The youngest sitting on his motherís knee was born on 30 May 1889 so I date the photograph as 1890.
The photographer was C G Bain of 124 St Stephen Street, Edinburgh , so this photo extends the time given when he was in business on your website by about four years."
John Gordon, Easdale, Oban, Argyll & Bute, Scotland: June 22, 2014