Policeman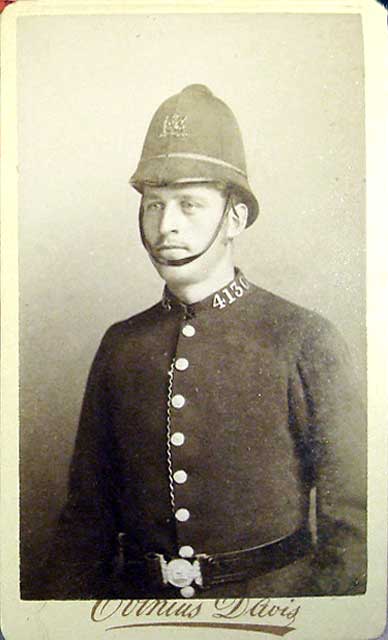 © Reproduced with acknowledgement to David Gordon, Old Town, Edinburgh
Policeman
Ovinius Davis had studios in:
- Glasgow (1866 to1908) and
- Edinburgh (1881 to 1928).
Here is one of his carte de visite photos. Cartes de visite were popular until around 1900.
Questions
When might this photo have been taken?
Is this an Edinburgh Police uniform?
Is this likely to be a genuine policeman or somebody dressed up as a policeman in an outfit from Davis' studio?
Please email me if you can suggest answers to these questions.
Thank you. - Peter Stubbs, July 8, 2008
Answer
1.
Bob Henderson
Burdiehouse, Edinburgh
Thank you to Bob Henderson who wrote:
Glasgow
"It looks to me like a fish on the helmet badge. That would make it a Glasgow policeman."
Bob Henderson, Burdiehouse, Edinburgh: July 9, 2008.
Answer
2.
Stewart Gardiner
Thank you to Stewart Gardiner for his reply
Stewart wrote:
Edinburgh
Pre-1932
"Without seeing a higher resolution image I can't be 100% sure, but the officer certainly appears to be wearing a pre-1932 Edinburgh City Police helmet plate."
Stewart added:
'D' Division
1922
"Here is a crop from a photograph of Edinburgh City Police, 'D' Division, 1922, taken at the rear of the West End Police Station at Torphichen Street."
Stewart Gardiner: February 4, 2011