Postcard Portraits
Morrison's Postcards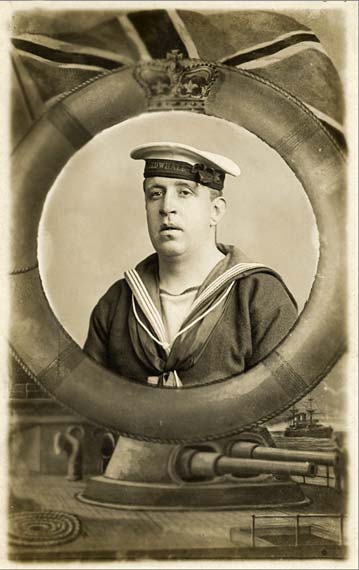 © Reproduced with acknowledgement to Maureen McIntyre
Sailor
HMS Zedwhale
This postcard portrait of a sailor was provided by Maureen McIntyre. She believes this to be a photograph of her great great uncle, John Richmond, taken around the time of the First World War, wearing his own naval uniform. The name on the cap is HMS Zedwhale
It is from one of Morrison's studios. George G Morrison had a studio at Portobello from 1912 until 1928.
Question 1
Does anybody have any information about HMS Zedwhale, or any other comments about this photograph. This is the only one that I have seen in this style from Morrison's studios.
If you have an views or comments, can you please email me so that I can pass on details to the owner of the photograph. Thank you.
Answer 1 to
Question 1
John D Stevenson
Trinity, Edinburgh
Many thanks to John D Stevenson, Scottish Maritime History Researcher for providing the following comprehensive information (and more) taken from several reference books:
'HMS Zedwhale'
"HMS ZEDWHALE was the first of fifteen Admiralty Whalers, ordered 15 March 1915 and built by Smith's Dock Co, using designs prepared for whalers to be built for the Russian Government.
- The ship was launched in July 1915 and given the number Z1.
- In September 1915 she was renamed MEG and given the Admiralty No 1790.
- In 1916, she was renamed ZEDWHALE.
- On 12 February 1920, she was sold out of service under the same name: new owners unknown.
- Within two years, she had been sold to Russian owners and renamed TSAR DUSHAN. Tsar Dushan was the Tsar of Serbia 1346-55 !"
Answer 2 to
Question 1
Gus Coutts
Duddingston, Edinburgh
Thank you also to Gus Coutts for letting me know that his copy of "Jane's Fighting Ships of World War 1" includes a photograph of HMS Zedwhale together with the names of the other 13 Admiralty Whalers in this class.
All were built 1915 by Smiths Dock Co, 336 tons, dimensions 139.75 ft x 25 ft x 6.5 ft, complement 26.
Gus Coutts, Duddingston, Edinburgh: July 11, 2009
Question 2
Joan Smurthwaite
Scotland
Is anything else known about HMS Zedwhale? If you have any further details of this ship, please e-mail me so that I can pass on the information to Joan Smurthwaite who wrote in December 2005:
'HMS Zedwhale'
"Hi, Though I have nothing to add to the reply already given I just wanted to say that my Father in Law's brother was a Deck Hand aboard this vessel during WW1.
He died in January 1916 aged 19yrs. I am in the process of sending for his death certificate to see where/how he died. He is mentioned on the Commonwealth Graves site, so I feel sure his death must have been as a casualty of the war. He is buried in Whitby, his home town.
I was hoping to find out more about the vessel Zedwhale other than what I already know and is shown on your site,
Maybe someone might see this & be able to tell me of any incident that might have occurred around Jan 1916, regarding HMS ZETWHALE.
Did something happen in or around Whitby at that time or was it elsewhere? Thank you.
Joan Smurthwaite, Scotland: 18 December 2005
Answer 1 to
Questions 2
Dave Mallinson
Thank you to Dave Mallinson who wrote:
William Smurthwaite
Joan Smurthwaite asked about her father-in-law's brother, William Smurthwaite DH RNR (STS) 3238SD, aged 19 son of James and Alice Smurthwaite, Carr's Yard, Bagdale, Whitby who was drowned on Monday 24 January 1916.
He is indeed buried in Whitby cemetery and his name is commemorated on the Memorial Board located in the Parish Church of St Mary, Whitby. It is unlikely that he died as a result of naval action, his cause of death, record as drowning, coupled with him being the only fatality suffered by ZETWHALE around this date, would suggest an accidental death, he was however undoubtedly a casualty of that war.
An explanation of the man's official number may be of interest, the SD suffix indicates that William Smurthwaite was entered into the Royal Naval Reserve (Special Trawler Section) and this would strongly suggest that pre-war he had been employed in the fishing industry out of Whitby.
Dave Malinson, Stontamar Naval Research: February 11, 2010
Question 3
William Douglas
Balfron, Stirlingshire, Scotland
Thank you to William Douglas who wrote:
"Lt Hon Ronald Douglas served on HMS Zedwhale. He was the son of the 19th Earl of Morton, and brother to William, who almost certainly was involved in Q ships operating out of Granton.
Is it possible that this vessel was used as a Q ship?
William Douglas, Balfron, Stirlingshire, Scotland: July 6, 2009
Answer 1 to
Questions 3
Dave Mallinson
Thank you to Dave Mallinson who answered the question about whether or not HMS Zedwhale might have been used as a Q ship.
Dave wrote:
'HMS Zedwhale'
'Q Ship'
"
Yes
, HMS Zedwhale
was used as a Q-ship. Carson Richie in his book on the subject, Q-ships ,published by Terence Dalton Ltd in 1985 ISBN 0 86138 011 8 devoted three pages to her involvement.
Originally built as a submarine chaser under nomenclature Z1, she was taken up 2 August 1915, renamed MEG, and as such was under French command with a French crew and flying the tricolour but under the orders of the British Admiralty.
Richie classes the vessel as "something of a mystery among mystery ships" not only questioning her raison d'etre,
Admiralty Comments
The Admiralty had an obsession that the German's had secured a U-Boat base in British or adjacent neutral waters.
The Admiralty classed Zedwhale as "unseaworthy"
(Report from her first commanding officer Lieutenant de Vaisseau Auxiliarre Jean Charlot after she nearly floundered off North Rona Island)
and "quite unfit to be at sea in Atlantic winter weather, only fit for service inside the Minch in small seas"
(Lieutenant de Vaisseau Auxiliarre Jean Charlot (1915) on the bridge of the MEG).
Transfer to Granton
After receiving Charlot's report the Admiralty proposed to transfer the MEG to the Mediterranean. However, this move never materialised and instead the MEG was transferred back to the Royal Navy after paying off on 13 January 1916, then renamed ZEDWHALE and re-commissioned at Granton, with a British crew, tendered to HMS ATTENTIVE, 6th Destroyer Flotilla Leader, Dover.
Dates are somewhat confusing but it appears that within days she transferred back to Granton as tender to HMS COLUMBINE, Base Ship Rosyth, and by 1917 she was partnering the steam trawler COOT H897, employed from the Forth down the east coast fisheries and for a time she partnered HM Submarine C7 on anti U-Boat patrols.
Q-Ship Activities
However, whether
ZEDWHALE actually participated in any Q-Ship activities with COOT is not entirely clear. With the advent of the convoy system in May 1917 the number of independent sailings reduced drastically and with changing tactics, the day of the Q-Ships had passed.
I am not aware of any action in which ZEDWHALE took any part and unfortunately I am unable to confirm if Douglas was personally involved in Q-Ship activities or, if by the time he joined the ship, these operations had come to an end.
Commanding Officer
The 1916 Navy List shows her commanding officer was Lieutenant Robert Joblin RNR and her engineer was Warrant Engineer Alfred Illingworth RNR. They remained on board through 1917 and it is in the 1918 list, corrected to December 1918, that Lieutenant The Hon, Ronald J S W Douglas RNVR appears as officer in command with Skipper William H Marshall RNR. Presumably Marshall was drafted to the ship as the professional seaman while Douglas was nominally appointed in command.
Sale of Zedwhale
Built by Smith's Dock Co. Ltd., South Bank and completed in July 1915 HM Whaler ZEDWHALE was eventually sold on 20 February 1920 to commercial buyers and later renamed TSAR DUSHAN.
Dave Malinson, Stontamar Naval Research: February 11, 2010