Professional Photographers
in
Edinburgh, Leith and Portobello
In compiling the booklets above, I discovered that many of Edinburgh's Professional Photographers had been members of Edinburgh Photographic Society in the 19th century, some acting as Presidents of
the Society. So I decided to discover more about the early Edinburgh Professional Photographers.
I compiled lists of dates and studio addresses from the Edinburgh & Leith Post Office
Directories, and other directories, and added background information as I discovered it.
The results were published in a booklet for the Royal Photographic Society's Historical Group.
The Historical Group has also published booklets of professional photographers in several
other British towns and cities, many of them covering periods to around early-1900s.
Edinburgh Professional Photographer lists are now on EdinPhoto web site for 1840-1999.
Compiled 2001: A5 booklet 55 pages of text, photos and lists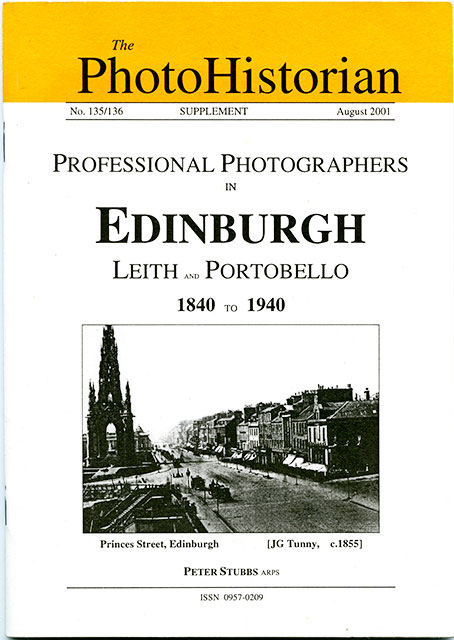 © Peter Stubbs: peter.stubbs@edinphoto.org.uk