I assume that these are all workers from the City Hospital.
One looks young, but he also appears on a photo taken outside the hospital.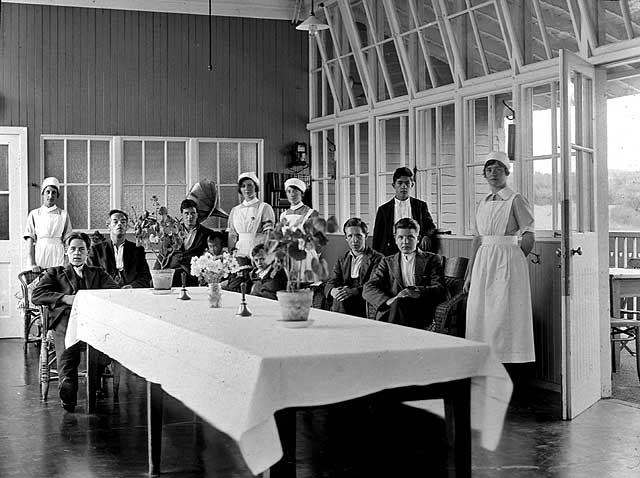 © Reproduced with acknowledgement to John Stirling, Currie, Edinburgh: November 6, 2009 Photographer not known
City Hospital Workers
Outside the Hospital
Old Photo
Here is another lantern slide of what I assume are workers at the City Hospital. The hospital buildings can be seen in the background
Answer
1.
Liz Miller
Jersey, Channel Islands
Thank you to Liz Miller who wrote:
TB Patients
"I think the lads in this photo would be Tuberculosis patients on the balcony, getting their fresh air. When I was on the TB ward at Bangour, the beds were put on the veranda as soon as it was felt to be warm enough for them, and they stayed there till the weather got colder again.
I might add that I was there in March and there were men outside then, day and night!"
Liz Miller, Jersey, Channel Islands: December 18, 2009