EPS Survey Section Photograph
Greyfriars Churchyard
and
Tollbooth St John's Church
Greyfriars Churchyard and Tollbooth St John's church
Tollbooth St John's Church on the corner of Castlehill and Johnston Terrace is now 'The Hub''
The stained glass window on the left seems to be in tact, so presumably the photo was taken before the fire of 1845
1845-47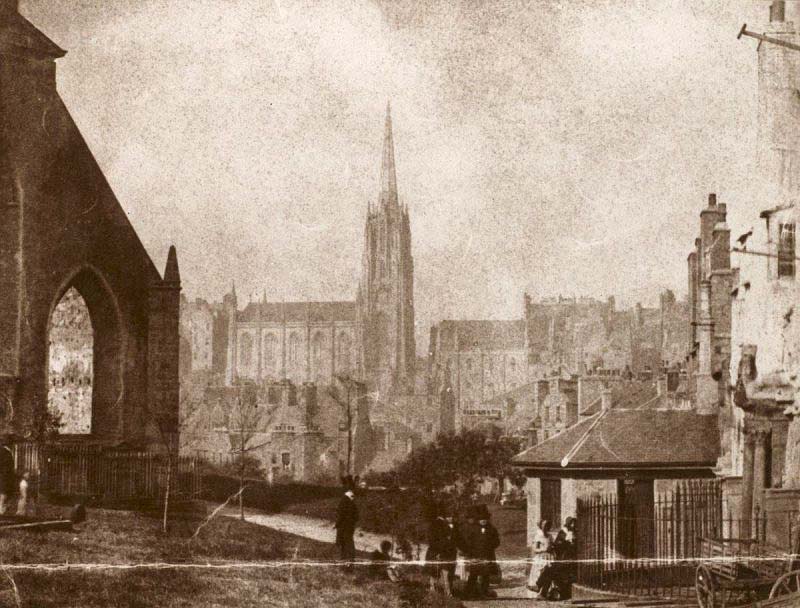 © Reproduced with acknowledgement to the Royal Commission on Ancient & Historical Monuments of Scotland (RCAHMS)
Canmore ID 52397, Photo DP088527, Photographer: DO Hill (The 'Hill & Adamson partnership lasted from 1843 to 1847)
Reply
1.
John Hadden
Edinburgh
Date of the Photo
When I added the photograph above to the web site yesterday, I thought I could see stained glass in the window on the left, so assumed that the photo had been taken before the church caught fire in 1845.
However, I've now revised that view and have attributed a date of 1845-47 to the photo, after receiving a message from John Hadden who wrote:
The Window
"I think this photo of Greyfriars Church and Tolbooth St John's church
may have been taken after the fire, as this photo of Greyfriars church was
but taken at at least a different time of day."
Comparison
"When I extracted the same church window from these two images and placed them side by side. I think the pattern within the window is similar in both, although it appears to be partly in shadow in the second image, and is therefore interior wall surface in both cases."
Joh Hadden, Edinburgh: July 9, 2011