Painting by
Tom Curr
used as the basis for tiles in shops belonging to
Buttercup Dairy Co
Painting by Tom Curr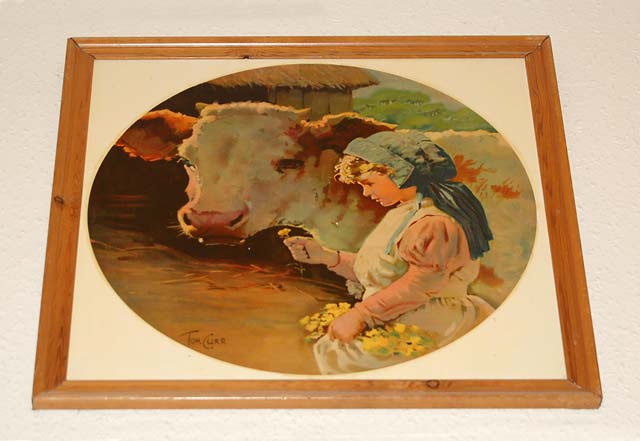 © Dr Lindsay Lennie, Crieff, Perthshire, Scotland
A transfer of Tom Curr's Painting
To be applied to Buttercup Dairy Co shop windows
See 'Recollections 2 below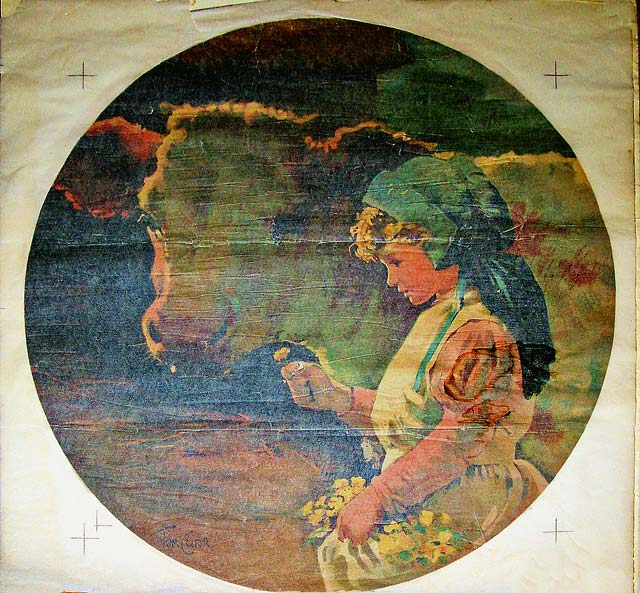 © Reproduced with acknowledgement to Bill Scott, Alnwick, Northumberland, England: October 27, 2011
Tiles on a Buttercup Dairy Co shop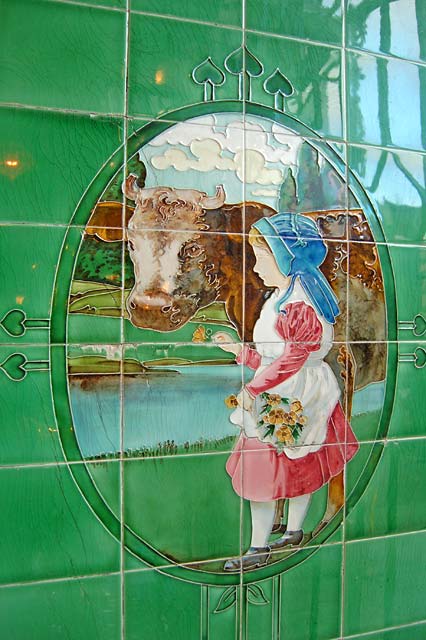 © Dr Lindsay Lennie, Crieff, Perthshire, Scotland
Buttercup Dairy Company
Three Pictures
The three pictures above are all of a brown cow and girl. They are:
1. A painting by the Edinburgh artist, Tom Curr. This painting may have hung in the Head Office in Leith of the Buttercup Dairy Co.
2. A transfer of the painting, two feet in diameter. These transfers would would have been applied to shop windows in all Buttercup Dairy shops.
3. Tiles in Craiglea Clocks, a shop in Comiston Road Edinburgh that was formerly one of the Buttercup Dairy shops.
Further Details
This page about the artist Tom Curr includes further comments about the paintings above.
Recollections
1.
GM Rigg
Edinburgh
Thank you to GM Rigg who wrote:
Drambuie Bond
"I spent about 5 years working at the old Drambuie bond at the foot of Easter Road. It's gone now but it was located just a little bit up hill from the Persevere Pub on the same side of the road."
Buttercup Dairy
"The manager (Mr Mees) had his office in the old building that at the front of the bond that had been the office for the Buttercup Dairy Company. The company name was carved over the teller's barred cubical.
and should have been preserved. Some of the older people who worked at the bond and had lived in the area all their lives told me that when they were kids, the school grounds all the way from the bond up to Hawkhill were where the dairy cattle were grazed.
I don't know whether they were pulling my leg about the fields or not."
GM Rigg, Edinburgh: Message posted in EdinPhoto guest book: September 11, 2009